MegaSeg Pro v5.8.3 MacOSX Incl Keymaker-CORE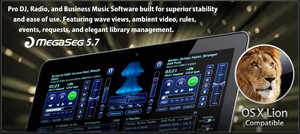 MegaSeg Pro v5.8.3 MacOSX | 22 MB
TEAM CORE 2012/06/27
Designed for Pro DJs, VJs, radio stations, and businesses who need full control of the mix. Customize the interface like no other with a robust set of color coding and library display options. Perform live mixes, on‐the‐fly segues, and beat‐mix between both audio and video. Automatically generate playlists with intelligent music rotations, program playlist event timers and triggers to start playlists at various times of day, insert messaging and ads at preset intervals, trigger sound effects instantly with hot keys, set rules for title, artist, and album separation, create continuous video playback with Ambient Video Playlists, network sync between systems, and much more.
New Version
The latest version adds a waveform viewer, album art displays, video browsing, powerful 3x gain adjustments, stronger Automatic Volume Control, title and album separation rules, live online streaming, scheduler rotations, a new animated interface, integrated iTunes playlists, BPM preview editing, live stream events, compatibility with virtually any audio output or MIDI device, and over 100 other improvements.
Dynamic Music Scheduling
Use MegaSeg to schedule and auto DJ your music, video, and announcements with intuitive management of song rotation, timed playlist events, instant hot key sound effects, and rules for artist separation.
Rock Steady
System stability is key. Unlike many radio automation systems, MegaSeg Pro broadcast and background music software is built from the ground up to work exclusively on the Mac — a powerful and stable UNIXbased system. Our customers praise MegaSeg's rock solid performance, intuitive features, and clean design.
Eye Candy
MegaSeg Pro's Ambient Video Playlist feature allows for continuous video output. This automatically displays background videos or images when playing audioonly tracks in the main playlist. Connect your Mac to a second video screen, and keep all eyes entertained.
Radio Stream
Use MegaSeg to run your internet radio station, combined with software such as NiceCast for Shoutcast or Icecast streaming, Live365, or QuickTime Broadcaster. MegaSeg's scheduling and playlist rules are a boon to any broadcaster. With its integrated music scheduling and programmed events, you can setup your radio station in no time for live assist or full automation.
Audio Architecture
Every business benefits from great background music, whether a restaurant, bar, retail store, casino, hotel, shopping mall, health club, or boutique studio, MegaSeg is your business music solution. Use MegaSeg to automatically generate the perfect music mix with scheduled announcements and promotional messages. It's a powerful tool for the audio architect.
Request Line
Find music fast, add text notes, and color code your tracks with MegaSeg Pro. Impress your listeners with instant requests using MegaSeg's fast search engine, category browser, and request list features.
Teamwork: Library & Playlist
MegaSeg has a large display area to view your library and playlists at the same time. This allows you to excel at tweaking your playlist onthefly. With full keyboard and mouse control, it's easy and intuitive to use.
Key Pro Features
All MegaSeg DJ Features +
Video Playback
Auto DJ Playlist Events
Intelligent Music Scheduling
Hot Key Sound Effects
Ambient Video Playlist
iTunes Store Compatible
Superior Stability
MultiChannel Outputs
Automatic or Manual Control
Logging and Analytics
MultiSystem Syncing
<!--QuoteBegin-->
<!--QuoteEBegin-->Rapidgator, Extabit, Uploaded.to, Bitshare, Turbobit
Download Links:
http://peeplink.in/cb9c903c3c77