Redmatica Autosampler v2.3.20 Mac OSX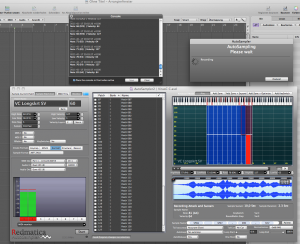 27-06-2012 | Quakeaudio | OSX | 20 MB
AutoSampler is the revolutionary software dedicated to the automatic sampling of hardware and software instruments responding to the MIDI protocol. Designed to be a creative tool for bridging the gap between high quality hardware synths and the virtual studio world, AutoSampler creates ready to play EXS24 instruments just by connecting your Mac to a sound source controlled by MIDI.
Through the use of a suited host program as Logic, it's also possible to sample virtual instruments complete of all their host effects processing. The more advanced features let you create instruments that switch/fade between keymaps sampled with varying synthesis parameters. It's also possible to create very complex sounds from multiple synth sources, using mix volume envelopes to dynamically composite the different layers of sound.
At the end of this process, ready-to-play Exs24 instruments (and relative samples) are automatically created. AutoSampler also supports sampling of midified acoustic pianos.
Smart instrument creation
When creating the instruments, AutoSampler can set the release parameter of the Exs24 amplitude envelope to the proper average value. It's also possible to create instruments where the samples are played "oneshot". This is generally useful for drum samples. The mapping of each sample on the keyboard uses an algorithm that minimizes the maximum amount of transposition, in order to maintain the highest possible playback quality.
How it works
AutoSampler has been designed to be as simple as possible to operate. For sampling an hardware instrument, you just need to connect it to your mac through midi and audio cables. The midi synth is sent a sequence of notes at various pitches and velocities and each sample is recorded, trimmed, normalized, saved and automatically inserted at the appropriate place in newly created Exs24 instruments.
The whole concept works also for sampling a virtual instrument but this time the connections will be made through the use of an appropriate host such as Logic, the internal IAC midi bus, and an appropriate digital audio internal patcher such as the freely available Soundflower by Cycling 74. At the basic level, you decide which patches and notes you want to sample and the number of velocity levels you want to capture. For each patch to be sampled, a new Exs instrument/sample-set will be created by the software.
Additionally, through use of the advanced features of Exs24 playback engine it's also possible to create a multidimensionally sampled (MDS) Exs24 instrument by sampling a complete keymap for each of the possible different value combinations of a set of 2 user specified midi synth controller (panel knobs, sliders or any synth parameter that accepts a midi controller input). Once created, this complex Exs24 instrument will playback a different sample set depending on how you set the designated controllers on you master keyboard. A possible application of this feature is for sampling a physical modeling midi synth, where the chosen controllers map to some complex parameters.
The result is that the generated Exs24 instrument is much more dynamic and better retains the subtleties and characteristics of the original synth patch. It's also possible to create very complex sounds by sampling from multiple synth sources, using graphic mix volume envelopes to dynamically composite the different layers of sound.
Smart Sampling
Sampling in an unattended way is good, but in a long session you can never know from start if the audio levels have been set correctly respect to the sampled material. In order to completely avoid any possible clipping, AutoSampler provides an optional automatic audio overload protection. When this option is enabled, any sampled audio that clips because of too high audio level is detected and marked. Clipped samples are then discarded and sampled again at a lower volume using appropriate midi volume messages. This process is repeated until the audio doesn't clip anymore. For successive samples, the midi volume will be slowly raised again to automatically improve the signal to noise ratio as much as possible. An automatic normalization processor compensates for the different sampled level, and in the end it's not possible to distinguish one sample from the other.
One click does it all
Once you are satisfied with the parameters to use for the sampling session, you click the Start button and from that point on AutoSampler will work unattended. For each patch to be sampled, the quiescent audio noise level is automatically detected and then the actual note sampling process starts. Each note is held sustained for a user settable amount of time while being recorded. Sampling of each note continues until the sound releases completely to the previously detected noise footprint. In this way slow releasing sounds are never cut in first instance.
Once the sampling session starts, AutoSampler will display the relevant info about the latest sample recorded and the overall sampling session, and also update an internal log, which can be later examined and saved. Any additional processing (trimming, cutting release, normalizing, phase alignment etc..) is done automatically after sampling each note, so the user hears the final result when auditioning the process.
All audio processing inside AutoSampler is performed in 32 bit floating point format. If the user chooses to create 16 bits files, the sampling and processing will still be performed at the highest possible resolution, and conversion to 16 bits will be done only as a last step, when saving the files to disk. Dithering is automatically applied when and where appropriate in order to obtain good quality samples in any reasonable condition.
Amazing Sound Design Made Simple
One very powerful feature of AutoSampler is the stereo sampling of large sets of dynamically layered sound sources. In addition to the main synth source, you can select up to 64 additional sound sources from up to 4 additional midi ports. For each of these sound sources, you can specify a multipoint volume envelope and a transposition value. At sampling time, AutoSampler sends note on messages to the sound sources, starts playback of the individual volume envelopes and samples the resulting mix. Through a randomize function it's also possible to randomize the envelopes to get new and very complex original material very easily. You can preview at any time the resulting composite sound by using an external midi master keyboard or the internal virtual one.
Whether you need to sample your hardware synth sounds, or resample some effected virtual instruments to a standard and open format, AutoSampler makes the process simple and quick. Just think of an application, and AutoSampler will sample for you.
INFO
This is the latest Version incl. Serial! Keep it save. Apple-Acquired Redmatica!
Reuploaded. PiRAT