PSP Audioware 608 MultiDelay VST AU RTAS AAX v1.6.0 Incl KeyGen OSX FIX ONLY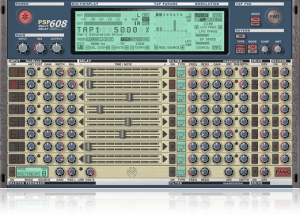 PSP Audioware 608 MultiDelay VST AU RTAS AAX v1.6.0 Incl KeyGen OSX FIX ONLY
NEMESiS | 10.3.2012 | 12 KB

PSP 608 MD is perhaps the most fully featured delay plug-in available on the market (VST, AudioUnit, RTAS and AAX format for Mac OSX Universal Binary and VST, AAX and RTAS format for Windows). We have striven to offer you a creative tool that is not only functional, but inspiring. Each tap has selectable feedback, stereo image and position, delay time, multimode filter, modulation, drive/tape saturation, and reverb. Moreover, the feedback and drive can be placed at the beginning or end of the signal chain for even more sound design options! The modulation section consists of both an LFO and Envelope follower, and the tape saturation algorithm is taken from our renowned mastering processors. And of course all this can be done at any bit depth and sample rate up to 24-bit, 192kHz, and be fully automated via MIDI and any host sequencer.
Homepage
http://www.pspaudioware.com/
<!--QuoteBegin-->
<!--QuoteEBegin-->
For those having trouble running KeyGen.app in recent release.

1) Extract .zip and place file com.pspaudioware.plugins.psp608.plist in /HDD/[user]/Library/Preferences/. Replace existing if asked.

2) Try the soft.

3) Buy the soft.

4) Enjoy!!
DOWNLOAD
http://peeplink.in/95cf02278426