Dillon Bastan M4L Devices Free Pack (12-05-22)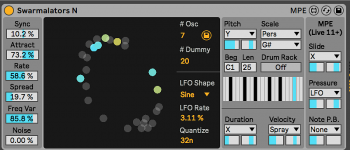 12 May 2022 | axmd | M4L devices | 32MB
10 free M4L devices are included, the ones you can find on Dillon Bastan gumroad.
Included:
Cellular Degradation v1.0.1.zip
Fractal Filters v1.0.4.zip
Image2Wavetable.amxd
Logistic Mod v1.0.0.zip
Markov Variations v1.0.0.zip
Screaming Janus v1.0.0.zip
Spectral Attractors v1.0.1.zip
Strange Mod v1.0.3.zip
Swarmalators N v1.1.0.zip
Swarmalators T v1.0.1.zip
Saves you the hassle to use gumroad again and again. Requires Ableton Live 11 Suite to work!
download from free file storage