10 Soundware Mixer Feedback model Y MM30 K KONTAKT-VON.G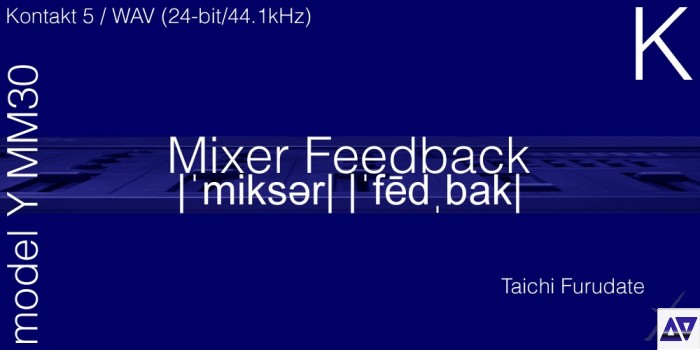 10 Soundware Mixer Feedback model Y MM30 K KONTAKT | 35.6 MB
TEAM VON.G 2013-07-08
No-input mixer. Mixer Feedback model Y MM30 K by 10 Soundware is a sound set for Native Instruments Kontakt 5. Designed by Taichi Furudate, these patches are based on audio captured from a no-input mixer, an instrument contrived by connecting the output of an audio mixer with its input to incite feedback. The second in a series of four titles, each centered on a different mixer, this release features a four channel model, circa 1980's, by a Japanese manufacturer.
As a member of a duo, Shimettainu, whose instrumentation consists solely of no-input mixers (even signal processors are not used in their performances), Taichi Furudate's prowess in the art of mixer feedback is extreme. Repurposing audio mixers as oscillators and tweaking onboard settings, he induces gradational shifts between timbres such as squealing, serrated noise akin to low pitched sawtooth waves, and many others, ranging from euphonic to discordant, sonorous to shrill. More radical forms of interaction with his sounds involve methods such as tampering with cables and on/off switches.
The timbres generated by the mixer used in Mixer Feedback model Y MM30 K can be described as "smooth, clean and glossy", according to Taichi Furudate. He also adds that the direct outputs, which are unaffected by the master section graphic equalizer, allow for complex routings, highlighting its suitability as a no-input mixer. Another feature of this particular model is an onboard echo effects unit the manufacturer peculiarly refers to as the "Bucket Brigade Delay" ("BBD"), the sound of which he characterizes as "retro and lofi like early tape music". Its plastic casing and its light weight, as well as the fact that it was purchased for 500 Japanese yen (roughly $6) in 2010, coupled with its set of features and "smooth, clean and glossy" sound may indicate that the model was presumably inexpensive, yet offered desirable value for the money in its time.
The sound design executed in Kontakt 5 transposes mixer feedback to the realm of synthesis. The sampler's formidable tapestry of DSP tools were savvily exploited to contort the captured audio to synthesizer paradigms (tuned patches based on seamlessly looped tones and drum kit presets) and into noise instruments, yielding patches ranging from stunningly simple to stupendously intricate. As a universal feature within the sound set, MIDI cc#1 was programmed to trigger vivid timbral transformations.
List Patches:
Sound design by Taichi Furudate.
CERTAIN PATCHES MAY EXHIBIT TUNING INSTABILITY OUTSIDE OF C1-B4, DUE TO ALIASING.
THIS SOUND SET WAS DEVELOPED ON AND CURRENTLY TESTED ONLY WITH KONTAKT 5.0.2 (REQUIRED) ON MAC SNOW LEOPARD. IT IS NOT COMPATIBLE WITH KONTAKT 5 PLAYER, THE FREE SAMPLE PLAYER. THE .NKI FILE FORMAT USED IN THIS PRODUCT IS OF THE MONOLITH VARIANT AND THE LISTED PRODUCT SPECIFICATIONS ACCOUNT FOR AUDIO FILES CONTAINED IN MULTIPLE PATCHES, AND THEREFORE THE ACTUAL DOWNLOAD WILL BE OF A LARGER FILE SIZE.
Specifications:
50 .nki files
160 WAV files (24-bit/44.1 kHz)
home page:
http://www.10soundware.com/10proddetail.asp?ID=1002
[audio=http://www.10soundware.com/audio/Mixer%20Feedback%20model%20Y%20MM30%20K.mp3]
DOWNLOAD: •

Uploaded

•

Rapidgator
http://peeplink.in/23f7e07f72cb