Beta Monkey Classic Backbeats Plus WAV-DELiRiUM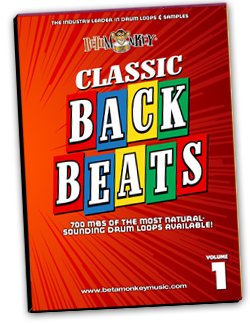 DELIRIUM | 07.29.05 | WAV | 1.0 GB
Looking for a pure, open, and honest drum sound? The kind that used to drive the classic rock n roll records back in the day? Then, let Classic Backbeats I bring home the purest acoustic drum loops your DAW or sampler will ever know.
Classic Backbeats I is a versatile collection of live drum loops and drum fills that capture the live sounds of an all-maple DW drum kit played in a spacious and warm room. If you want ultra-live, retro acoustic drum loops for rock, pop, surf, or bluesy-rock (think anything 60's), then look no further. Classic Backbeats I provides thorough coverage of tempos, and a pure, punchy sound that simply makes it a "must have" tool for anyone needing the pure unadulterated tones of an acoustic drum set.
Classic Backbeats I is no lightweight collection offering a handful of useful loops. WIth 1.3 GB of total live studio drum loops, all arranged and organized by tempo, you will have one of the largest drum sample collections we offer on call 24/7 for all your songwriting needs. With grooves covering 12/8 feels, swing feels, straight-ahead rock, and acoustic Hot Rod grooves, Classic Backbeats I will allow you to create any number of stylized drum tracks.
Classic Backbeats I features "Sonically Matched" Retro Grooves: All drum loops are from the same recording session and drumkit which assures you of the best flexibility in mixing and matching loops - everything will match sonically. Like to change up tempos, bump the tempos up a bit in the choruses or solo sections, or mix feels? Classic Backbeats I has you covered.
Available in 16-bit ACIDized WAV, APPLE LOOPS, and REX2 formats.
Classic Backbeats I Loop Sets
55 BPM 48 loops
62 BPM 21 loops
65 BPM 62 loops
70 BPM 15 loops
80 BPM 63 loops
90 BPM 139 loops
95 BPM 47 loops
100 BPM 105 loops
105 BPM 43 loops
110 BPM 79 loops
115 BPM 21 loops
117 BPM 17 loops
120 BPM 136 loops
125 BPM 50 loops
130 BPM 72 loops
140 BPM 35 loops
145 BPM 49 loops
154 BPM 29 loops
156 BPM 36 loops
160 BPM 26 loops
190 BPM 117 loops
Samples - Multi-velocity samples, drums and cymbals 77 Samples