Beta Monkey Music Jazz Essentials II WAV AiFF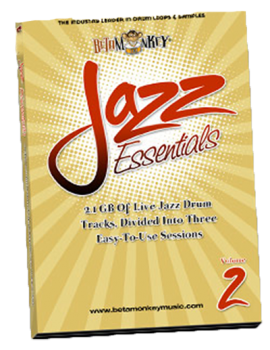 FANTASTiC July 30 2016 | 1.33 GB
We took a decidely different approach for the next installment in the Jazz Essentials Series. This collection of jazz drum tracks offers full live takes of essential jazz drumming styles in a wide range of tempos and styles.
You get the full takes, with 100% live jazz drum tracks lasting from 3-12 minutes in performance length. Due to the nature of this genre, we wanted to go with the live feel and not relegate great playing and phrasing to a collection of one, two, or four bar jazz loops. Each track begins with basic timekeeping and continues to build in complexity and intensity - adding complex syncopations and usable jazz phrasings. It's easy to grab a few bars of the phrases you need or use the tracks "as is" to play along and build improvisational skills.
Perfect for playing along or for grabbing just the bars you need. An absolute wealth of traditional jazz drum tracks, played with impeccable taste and time. Without question, an exhaustive resource covering a wide range of popular jazz playing styles and tempos.
Jazz Essentials II offers users nearly 2.1 GB of live jazz drum tracks, divided into three easy-to-use categories:SESSION A
- Traditional Jazz Drums 60-120 BPM
SESSION B
- Traditional Jazz Drum 135-200 BPM
SESSION C
- Latin Jazz, 3/4 Jazz, Blues/Jazz Swing Drums
We let the tape roll and captured it all - all the swing you crave as well as the warmth of a maple Gretsch drumset to deliver a versatile resource of jazz and jazz-latin drumming and grooves. All tempos offer a dedicated groove section - from basic time-keeping to the "let loose" syncopations of the genre as well as a dedicated fills sections, complete with intros, pick-ups, and endings. And, to round out the disc's versatility, we've included a matching set of multi-velocity drum and cymbal samples from the kit used in recording the loops.
So, whether you want to play along and hone your chops comping with the full source tracks or dig out your audio editor and construct your next jazz project with loops, the rhythmic possibilities of Jazz Essentials II are limitless. It will quickly become an indispensable compositional tool in any jazz musician's sample library.
Available in 16-bit, 24-bit ACIDized WAV and APPLE LOOPS.
Note: All jazz tracks noted as "Groove Tracks" include basic time-keeping, multiple grooves and variations, and fills. "Fills Only" tracks are exclusively fills - intros, pick-ups, trading licks, and endings. See below for audio samples.
SESSION A Previews Track Time
60 BPM Traditional Jazz 3:16
60 BPM Jazz Drum Fills 1:54
75 BPM Traditional Jazz 4:00
75 BPM Jazz Drum Fills 1:00
90 BPM Traditional Jazz 3:51
90 BPM Jazz Fills 2:40
105 BPM Traditional Jazz 5:47
105 BPM Jazz Fills 4:07
120 BPM Traditional Jazz 12:14
120 BPM Jazz Fills 6:54
SESSION B Previews
135 BPM Jazz Drum Track 3:46
135 BPM Drum Fills Only Track 5:54
150 BPM Jazz Drum Track 10:31
150 BPM Fills Only Track 8:33
175 BPM Jazz Drum Track 5:30
175 BPM Fills Only Track 4:51
200 BPM Jazz Drum Track 3:29
200 BPM Fills Only Track 3:15
SESSION C Previews
60 BPM Latin, Latin-Jazz Drum Track 2:07
75 BPM 3/4 Jazz Drum Track 2:03
75 BPM Latin, Latin-Jazz Drums 2:10
90 BPM 3/4 Jazz Drum Track 1:39
90 BPM Blues-Jazz Drum Track 3:28
105 BPM Latin, Latin-Jazz Drum Track 4:30
105 BPM 3/4 Jazz Drum Track 1:25
105 BPM Blues-Jazz Swing Drum Track 3:15
120 BPM Latin, Latin-Jazz Drum Track 5:49
120 BPM 3/4 Jazz Drum Track 1:42
120 BPM Blues-Jazz Swing Drum Track 2:14
135 BPM Latin, Latin-Jazz Drum Track 3:30
135 BPM 3/4 Jazz Drum Track 1:20
150 BPM Latin, Latin-Jazz Drum Track 3:56
150 BPM 3/4 Jazz Drum Track 1:48
175 BPM Latin, Latin-Jazz Drum Track 1:45
175 BPM 3/4 Jazz Drum Track 1:30
200 BPM 3/4 Jazz Drum Track 1:31