Cinematique Instruments Zilhouette Strings KONTAKT-0TH3Rside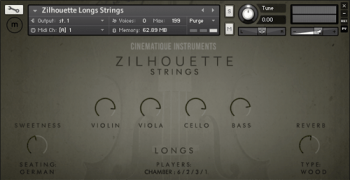 0TH3Rside | October 23, 2016 | 1.83 GB
Zilhouette Strings is the collection of all our strings we recorded so far! It includes 7 violins, 2 viola, 7 cellos and 2 basses in total. The musicians we recorded are german-known session and live orchestra musicians. All content was recorded in several recording sessions in our own recording rooms in a close and intimate distance to the instrument in a solo as well as in a trio situation. We have used condenser mics such as Neumann U-87 and TLM 103, Schoeps MK4 as well as dynamic mics such as Sennheiser MD421, AKG D112 among others.
Zilhouette Strings is the first pure string library we are releasing and we are very excited about it! In summary, you get a collection of string sounds which is directly at your fingertips. You can quickly select the amount of player, mix the separate instrument groups at your own requirements, select the kind of seating and place them into an ambience - and that´s all with an intimate, natural and catchy sound.
Zilhouette Stings are extremly flexible and you can surely use them for a wide range of musical genres.
Overview
- 3 articulations
- mixable instrument groups
- 5 different 'true' players sizes/ ensembles per articulation
- 2 different kind of seating
- several fine selected reverb types
- additional bonus Intimate Piano
- warm, intimate and natural sounding
- extremly flexible
* full version of Kontakt 4 or higher is required.
Listen to Zilhouette Strings and the Intimate Piano!
Shimmer
mp3Earth
Clouds
Heads Up
Head Of Portas
Mikos
Coffe Shop
When Everything is Good
Arthur
Run Away
Feel free to add mirrors!

Dead Links: Send me, PM!
download from free file storage