KeyFax Complete Orchestra Voice Bank v2.0 For Yamaha Mostif ES Workstation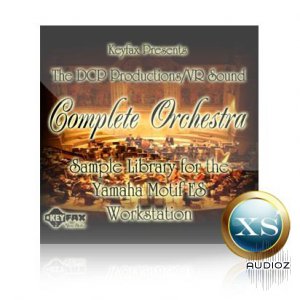 X0A | 128.14 MB
The best-selling, most expressive and comprehensive orchestral library for the Motif XS is now at version 2.0!
"Complete Orchestra XS" consists of 256 user Voices, 128 Performances, and 6 ready-made song mix templates utilizing almost 211 megabytes of samples. Everything you need to do complete orchestrations is presented in Complete Orchestra - from expressive string sounds (large, medium, and small sections and solo instruments) to natural sounding brass (ensembles and solo instruments) to woodwinds to orchestral percussion and special orchestral FX (including an 1812 cannon!). "Complete Orchestra" also includes new grand piano, harpsichord, celesta, harp, bell and choir voices which utilize Motif XS' existing waveROM.
Version 2.0 of "Complete Orchestra XS" includes the following changes from version 1.0 –
1. Solo instruments in string, brass, and woodwind categories reprogrammed for even more expression, playability, and realism.
2. The solo "Fiddle" voice in version 1.0 has been replaced by "Violin VB 2", which is a variation vibrato violin.
3. The solo muted trumpet voices now have the mute type (Harmon, cup, bucket) added to their names for reference.
4. A new "growl" tenor sax voice, with growl controlled by an assignable switch, has been added.
5. Additional new brass waveforms have been added including solo trombone and trumpet falls, unlooped bright straight trumpet and brass cluster fall.
6. String sections (cellos, violas, violins, and basses) are now panned to their respective positions on the "virtual" orchestral stage, allowing you to build more realistic orchestral mixes..
7. The number of song mixing templates has been increased from 3 to 6.
Brass SectionDrums, Gongs, Cymbal... Keyboards & Harp Nutcracker SuiteOrchestral Percussio... Rhapsody Orchestra Saxophones Solo Brass Solo Flute, Piccolo... Solo StringsSolo TrumpetsSolo Woodwinds
String ArticulationsString Sections Woodwind SectionsXylophone and Bells
download from free file storage