REQ: NAVIRA (WIN/OSX)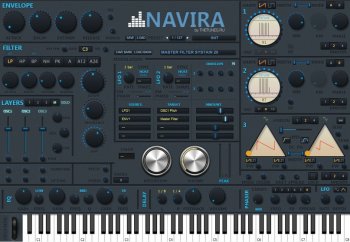 — No other VSTi synthesizer on the market can match the sound of Navira
NAVIRA — NAVIRA is a modern VST synthesizer that features the legendary Hypersaw sound — the sound that defined modern Trance, Progressive and a host of other EDM styles.
INFO:
Many have tried and failed to get close to the authentic sounds of Hypersaw and Supersaw—until now! NAVIRA is the first VSTi synthesizer to precisely replicate the signature sound of the Roland JP-8000 and the Virus TI.
Coded from the ground up, NAVIRA's powerful sound engine achieves outstandingly rich, bright and deep-sounding patches. With its high-quality filters and detune section, this engine gives any producer the means to precisely model the distinctive character of Roland and Virus.
OPTIMIZATION:
Excellent code optimization makes Navira easy on your CPU, so you can run multiple instances of the plugin and work on big projects without compromising your tracks