REQ: eMastered ATOM - THE FIRST AI SYNTH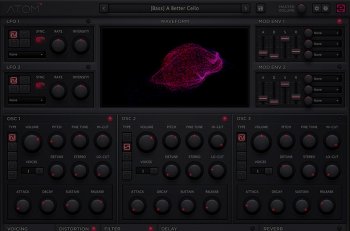 A subtractive synthesizer built by Grammy winners
Cutting edge AI technology in an elegant, easy to use interface
Best-in-class presets from the worlds best producers
AI-powered synthesis.
Atom's AI technology works alongside you when you're making sounds. As you change parameters within the synth the AI kicks in, drawing from the same technology as our mastering tool. No matter the sound, genre or style Atom's AI technology ensures the adjustments you make sound fantastic.
Grammy worthy presets.
Choose from 326 pre-installed sounds that were designed by some of the brightest stars in modern music. Their secret weapons are now in your arsenal.
Incredible quality.Lightweight performance.
ATOM utilizes incredibly lightweight code to minimize CPU usage. Now you can focus on making music, without getting bogged down by maxing out your CPU.
Powerful yet simple.
Customize your sounds with our straightforward drag-and-drop routing. Manipulate any element you want with any other element inside of Atom. Make your sonic imagination a reality.
What Grammy winners are sayingCarlos "CID" Cid
Grammy Winner - "
Summer Time Sadness
"
"ATOM is an amazing synth. It looks great, has fantastic presets, and the interface is incredibly easy to use."
Features and specifications:
- 3 Oscillators
- 4 Analog-Modeled Filters
- 5 Classic Waveforms
- 2 Assignable LFOs
- 3 Incredible Onboard Effects
- Legato, Unison and Polyphony Modes
- Unison and Advanced Oscillator Stacking
- Over 326 presets
- 32-Voice Polyphony
- Real-time Synthesis Animation