Spectrasonics BackBeat SAGE Xpander DVDR-BSOUNDZ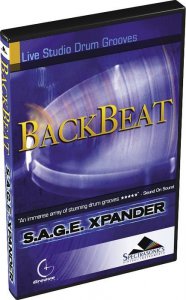 Team BSOUNDZ | 01.22.05 | 1.46 GB
Sometimes, you just need that straight-forward, no frills, clean and lean drum groove. If you do pop, rock, smooth jazz, or cross-over, a pure live drum sound is absolutely essential. Even in today's dance and R&B, the tight and crisp sound of an unadulterated drum kit is pure gold. This is why Backbeat may become the most important library in your collection! Producers Eric Persing and Bob Wilson recorded four world-class drummers in numerous legendary studios, with some of the best drum rooms on the planet. The playing is right in the pocket by LA drummers with legendary feels. The very latest recording technology was used to capture a stunningly Hi-Fi, yet very natural sound. Every groove has a unique kit and mix! The variety of sounds within this single library is astonishing.