The Defiant Ones S01E01-04 720p WEB h264-TBS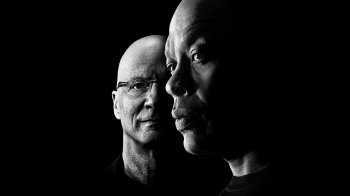 Team TBS | 10 July 2017 | 5.26 GB
"The Defiant Ones" examines the partnership between Jimmy Iovine and Dr. Dre - one the son of a Brooklyn longshoreman, the other straight out of Compton - and their leading roles in a chain of transformative events in contemporary culture.
Season & Episode: Part 1
Premiere of a four-part documentary series spotlighting the unlikely, but durable partnership between music producer Jimmy Iovine and rapper Dr. Dre. The opener follows Dre's story in Compton, Cal., and his fascination with dance music and Iovine's early days in Brooklyn.
Season & Episode: Part 2
With provocative songs like "F**k the Police" and "Straight Outta Compton," shaped by the bitter race relations in Los Angeles, N.W.A. evolved into a force to be reckoned with, in LA and beyond. But a series of calamities – including personal losses on the streets, run-ins with the law, a bitter contract dispute and a clash over management that strained Dre's relationship with Eazy-E – undermined the band and landed Dr. Dre at a crossroads, looking to make a fresh start. Meanwhile, Jimmy continued his rise up the music ladder via successful collaborations with Tom Petty and Stevie Nicks (with whom he had a relationship). But he hit a wall, and considered his own career shift, after a particularly arduous collaboration with U2, whose tireless drive in the studio rivaled his own.
Season & Episode: Part 3
By 1989, Jimmy had parlayed his production expertise into a new career as co-founder of Interscope Records, committing the label to on-the-edge artists like Trent Reznor's Nine Inch Nails, Marilyn Manson, Gwen Stefani and No Doubt … and Dr. Dre, whose solo LP, "The Chronic," had been recorded by Death Row Records, a post-N.W.A. label he created with Suge Knight, the D.O.C. and Dick Griffey. Blown away by Dre's singular talent, Jimmy cut a deal with Death Row for Interscope to become the label's distributor. "The Chronic" became a huge hit and spawned an even bigger LP from Dre's protégé, Snoop Dogg. But hostility was mounting across America towards the misunderstood violent influence of rap music, and Interscope and Time Warner (which owned 25% of the company) found themselves in the crosshairs of an angry political mainstream. As Jimmy resisted overtures to sell Interscope's stake in Death Row, Dre, along with Snoop Dogg and recent signee Tupac Shakur, became embroiled in a violent feud with East Coast rap rivals, notably Sean "Puffy" Combs and his Bad Boy Records, which drove Dre to seek out another new beginning.
Season & Episode: Part 4
Leaving Death Row Records to form a subsidiary of Interscope called Aftermath Entertainment, Dre endured a string of disappointing solo releases, but Jimmy stood by him as others argued he should be dropped. Dre's fortunes turned when Jimmy turned him on to the music of unknown white rapper Eminem; with Dre producing, Eminem and Aftermath recorded "The Slim Shady LP" and took the rap music world by storm. On a roll with Dre and an enviable list of hot new acts, Jimmy was nevertheless worried that the music bubble would burst due to the emergence of Napster, and looked to forge corporate-marketing partnerships to boost the visibility and incomes of his artists. An opportune sit-down between Jimmy and Dre led to the idea of Beats Electronics, the speaker-headphone phenomenon that vaulted the partners to new heights, and paved the way for an historic 2014 deal with Apple. The world's most valuable company wasn't just interested in headphones: It was investing in the genius of Jimmy and Dre, who continue to innovate at Apple Music while picking up accolades – Dre was inducted into the Rock and Roll Hall of Fame with N.W.A. last year – and giving back to the communities that fostered their unique talents.
download from free file storage