Learn To Play The Songs Of John Denver 3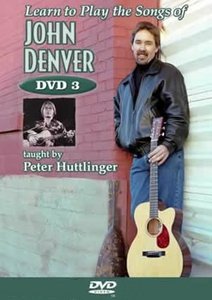 DVDRip | M4V/AVC, ~2344 kb/s | 640×480 | Duration: 01:26:11 | English: AAC, 164 kb/s (2 ch) | + PDF Booklet | 1.53 GB
The first two volumes of this series have met with such enthusiasm from guitar playing fans of John Denver that it became clear that we had to continue with a third lesson. Pete Huttlinger's comprehensive understanding of John Denver's music, and his ability to communicate techniques to learning guitarists, have inspired innumerable players and have made these among Homespun's most successful instructional products.
For this lesson, Pete has selected seven of the John Denver guitar arrangements most requested by fans of his previous DVDs. He teaches the arpeggiated intro and rich chords of Calypso; the powerful strumming patterns of Spirit and The Eagle and the Hawk; the flatpicking riffs and bass lines to Matthew; the intro and fingerpicking patterns to Dreamland Express and Poems, Prayers and Promises; and the classical-sounding accompaniment to Today.
Throughout the lesson you'll gain many insights into the musical mind of John Denver, as well as the special sounds and compelling voicings that make these guitar arrangements simple to play and yet uniquely beautiful. Complete your collection of these popular DVDs and have fun playing this timeless music.