Homespun The Fingerpicking Blues of Etta Baker TUTORiAL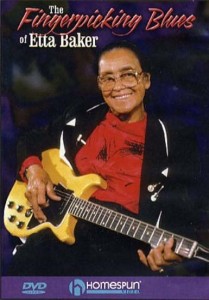 Homespun The Fingerpicking Blues of Etta Baker TUTORiAL DVDR
Publisher: Homespun | Language: English | 01:08:29 | VIDEO_TS | 4.13GB
MPG2, 8000.0kbps | 720×480, 29.97fps | LPCM, 1536.0kbps | 48.0kHz 16bit, 2 channels
Learn traditional fingerpicking blues from a legendary player! Etta Baker plays, sings and breaks down ten traditional and original tunes, offering a true down-home lesson in Piedmont style blues.
Playing her dreadnaught acoustic and 1950's Gibson Les Paul, Etta's rock solid yet swinging fingerpicking is truly inspiring to watch. You'll see, up close, her alternating-thumb and blues picking techniques, plus left-hand chord shapes, slides, bends and the variety of rhythmic devices that add a personal touch to every song she plays.
Etta performs and discusses some of the best-known songs of her repertoire: The classic fingerpicking of Carolina Breakdown, One Dime Blues, Railroad Bill and Bully Of The Town; the 'Spanish' four-finger style of Dew Drop; the electric Delta blues style of her original On The Other Hand Baby; the rocking Brown's Boogie, and two songs in open-D (or "K.C.") tuning-- Goin' Down The Road Feelin' Bad; and her powerful bottleneck/slide version of John Henry.