Electronic Sound Issue 74 2021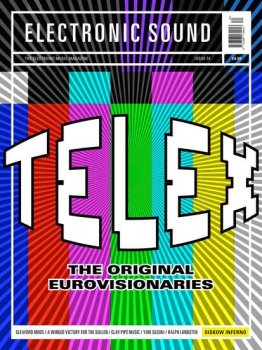 English | 100 pages | True PDF | 16 MB
Never mind the chocolate. Forget the moules-frites. Give no further thought to Plastic Bertrand or Kevin De Bruyne or that bronze statue of a little boy having a wee. Because what Belgium is most famous for is Telex, the trio responsible for some of the very finest early European synthpop records. Who could forget classics such as 'Moskow Diskow' and 'Euro-Vision'? We rest our case.
Marc Moulin, the journalist and label owner who came up with the original idea for Telex back in 1978, is sadly no longer with us, but we're delighted to be able to talk to the two surviving members of the band, frontman Michel Moers and synth virtuoso Dan Lacksman, for this month's cover story. Four decades on from their best known records, they've lost none of their love for all things electronic. Or their wry sense of humour.
But then this is as you might expect from the group that recorded wonderfully oddball versions of 'Rock Around The Clock' and the French variété favourite 'Twist A Saint Tropez', as well as agreeing to represent Belgium in the 1980 Eurovision Song Contest with the specific intention of coming last in the competition. They were understandably disappointed when Portugal awarded them "dix points" as the event drew to a close, pushing them just ahead of Finland and Morocco at the last minute.
We have lots of other entertaining interviews this month, including an in-depth chat with electro-punks Sleaford Mods about their 'Spare Ribs' album, a typically vitriolic and scarily apposite soundtrack to the seemingly unending dystopian times we're all living through. We also meet Ralph Lundsten, the Swedish synth legend who held court at a 19th century pink palace near Stockholm for more than four decades, playing host to everyone from ABBA to Led Zeppelin, as well as reportedly presiding over some X-rated parties.