Music Theory: The Step by Step Beginners Guide to Understand and Learn Music Theory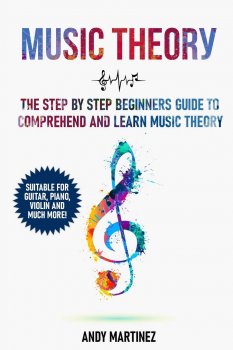 English | 2020 | ASIN: B08BKTKJPL |140 Pages | PDF, EPUB, AZW3 | 1.2 MB
This beginner-friendly book by music producer Andy Martinez will teach you everything you need to know about music theory - explained in simple terms and with examples you can actually relate to. Andy is about to teach you the EXACT things you need to know about music!
This book will help you:
•Discover the building blocks of songs
•Confidently read sheet music, chord charts, and guitar tabs
•Train your ear so you can easily play songs you've just heard
•Sing in tune even if you've never practiced it before
•Catch a glimpse of how music is composed
•Discover the EXACT steps you need to take to learn a new song
•Write down the music that you hear in your head and become a composer
•Greatly improve your playing skills in just a few weeks!
With this book, you'll gain a deep understanding of music even if you've never played an instrument before. Music theory books have a reputation for being confusing and irrelevant to the needs of jazz, pop, and rock musicians... but this one is different! It will empower you to appreciate music on a deeper level... and to start composing your own songs!