Acoustic Fields All In One DIY Acoustic Treatment Build Plans Package PDF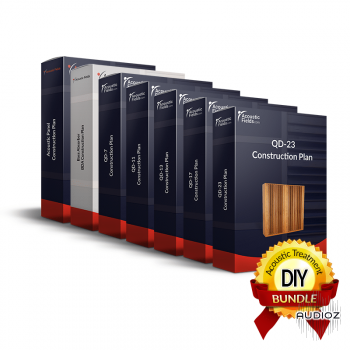 PDF | 22.45 MB
Having problems with the acoustics in your room? Need a cost effective way of dealing with absorption and diffusion? Then our all in one DIY Build Plan package is for you!
- 7 DIY Build Plans in one great value deal.You get a Broadband Diaphragmatic Absorber to manage your low frequency problems, Acoustic Panel plans to manage your mids and highs and 5 Sound Diffuser build plans to make your small room sound larger!
- Each plan comes with a material and tool list, cut sheet and easy to follow step by step assembly instructions,
- Actual build photos showing you what each finished step looks like,
- Your solid wood BDA Bass Absorber unit, when built, will stand 24″W x 48″H x 10″D and bass energy all the way down to 40 Hz!
- 5 Sound Diffuser Plans included.
- DIY plans that are based on our $1,000+ production units!
- Independently tested and predictable performance results,
- Phone time with our Chief Acoustic Engineer Dennis Foley so any questions can be quickly answered,
- Both horizontal and vertical diffusion options.
Your welcome & Good luck