Fretboard Concepts: A Complete & Modern Method to master Scales, Modes, Chords, Arpeggios & Improvisation hacks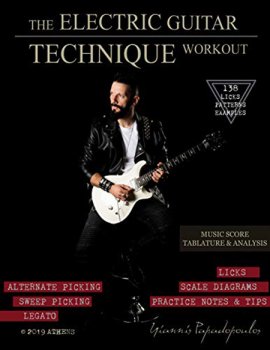 English | 2019 | ISBN: 6180005281 | 112 pages | PDF | 15 MB
MASTER THE FRETBOARD & IMPROVISE LIKE A PRO
FRETBOARD CONCEPTS is a book that has all the necessary tools that EVERY GUITAR PLAYER NEEDS in order to be a well-rounded guitarist and a great musician.
It's a modern approach to guitar playing that introduces a revolutionary method, the double note system, which combines the CAGED logic in 7 positions using 3 note per string patterns. ALL YOU NEED IS HERE IN THIS SYSTEM.
•Are you tired of playing the same lines when you improvise?
•Are you looking for a book to unlock your visualization of the fretboard?
•Are you looking for a book to give you knowledge, inspiration & modern ideas for your solos?
•Do you want to be able to improvise fluently?
•Do you want to expand your scale, arpeggio & chord vocabulary?
•Are you in search of a systematic approach to help you understand music theory and harmony?
Learning guitar is the best gift you can do to yourself! Although it's a fun and creative journey, it can be quite chaotic if you don't have a structured method to follow, a method that will give you fast results, a method that you can trust.
This is a book for all levels, from the total beginners to the most advanced guitar nerds, kids and adults!
WHAT YOU 'LL LEARN
Inside its pages, you'll find:
SCALES & MODES - pentatonic scales, major modes, harmonic minor & melodic minor modes,
ARPEGGIOS - triads & 7th arpeggio shapes,
CHORDS - traditional system (triads & seventh chords), Drop 2 & Drop 3 shapes,
THEORY - HARMONY chapter that contains all the fundamental and advanced theoretic terms and knowledge you need to have, explained in plain words, along with theoretic exercises -plus their solutions,
IMPROVISATION TECHNIQUES - The key point of this book is the GRAND FINALE chapter, where all the presented material is put together, creating a global view of all chapters while introducing new concepts and ideas that will intrigue even the most advanced players.
BUY IT NOW TO UNLOCK THE FRETBOARD & IMPROVISE WITH EASE
All this treasure of knowledge is here waiting for you to dive in! This book will reveal you the secrets of modes and harmony and it will teach how to think when you improvise. It will help you create your unique improvising mindset, skills & identity as a guitar player.
Whether you'll choose the convenience of the e-book or the classy feel of the paperback, one thing is for sure: You have a book that gathers truly UNLIMITED material and gives you ways to master it. It will definitely keep you learning and challenged for years. Wait no more! It's time to shape your mind and playing and discover the GUITAR HERO within you! BE THE BEST YOU CAN BE!
FileHost Included:
Uploaded | Rapidgator | Rockfile | Katfile | Douploads