Beat Specials English Edition Killer Hooks 2021 PDF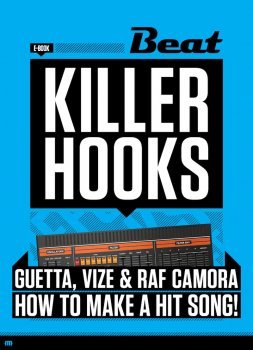 PDF | 04 Jul 2021 | 11.3MB
Sure, the mix has to sound excellent and the arrangement has to create tension, but vocals and melodies are and remain the most important elements that stick with the listener and encourage him to hum along. But how do you create such ear-catchers and how do you successfully create them? We show you the tricks of various chart producers and give you techniques to make your own hit a breeze.
The BEAT eBooks - Quick Skills for Creators
The BEAT eBooks are all about making: Designing sounds, producing hits, setting up studios, selling and streaming music and much more. Each eBook offers its own individual focus, from synthesizers to recording to performance and sound design, with both technical and creative depth. Also included are solutions for mixing and mastering, enriched with market overviews and interviews for valuable experiences from everyday studio life. With the optional software downloads, you get everything you need to create.
Product details:
1 PDF per language
14 pages
all about hooklines & charts