Novuzeit The Hands Of Darkness v1.5 CLENCHED VSTi-AMPLiFY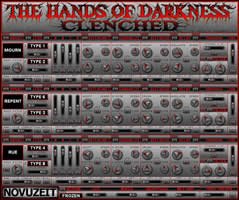 VSTi | Team-AMPLiFY | 4.92 MB
Dysfunctioning circuit boards, growling gutteral monsters,
haunted bogs and creepy moors...
REACHING FROM THE ABYSS
The Hands Of Darkness - "Clenched" represents an innovative
and highly esoteric concept culminated into tangible VST
form. The idea? A software synthesizer for but one purpose,
to create dark, unsettling, and intentionally
malfunctioning-sounding textures. The Hands Of Darkness -
"Clenched" is ideal if you're a noise artist, a soundtrack
producer for horror films/games, an
ambient/industrial/experimental music purveyor, or simply
an aural marauding hobbiest looking for something
completely different.