Ample Sound AGG v1.6.0 Incl Keygen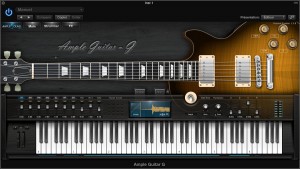 R2R | 20.2.2014 | 2.29 GB
Ample Guitar G aim to bring the Gibson Les Paul Custom Guitar sound to your studio
Every guitar note with real samples – no re-sample.
Natural sustain, the longest sample is 28s – no sample loop.
2 Features
2.1 Highly Efficient Sampling System
2.1.1 Poly Legato & Guitar Techniques: Sustain(Standard), Hammer On & Pull Off, Slide up & down, Slide in & out, Palm Mute, Artificial Harmonic, Natural Harmonic, Staccato (Short), Bender, Strum, 10 techniques, Legato at random length, pitch & poly. Legato group can be played even on the Strummer.
2.1.2 Each Cycle & Rhombic Sampling Modeling: Separate sample cycle for each note and velocity layer to improve sample utilization. There are 18 – 32 samples for each note.
2.1.3 Original Total Start Time which makes the picked instrument sounds more natural – it makes a Virtual guitar instrument sound like it is.
2.2 Intelligent MIDI Logic
2.2.1 Capo Logic: Intelligent playing method according to guitar rules, which is designed for users not familiar with a guitar before.
2.2.2 CPS (Customized Parameters Setting): Ample Guitar allows users to control all of controls (knob, button, slider etc) via MIDI Controller or Automation.
2.2.3 Double Guitar: As a common technique in music, Ample Guitar's Double Guitar feature conforms to its name because totally different samples are being played on left and right channels. And it's very easy to use by simply click the toggle button.
2.3 Easy Strummer Play with 2 fingers
2.3.1 Customized Chords and rhythm, with delicate presets.
2.3.2 13 Strum notes + 27 playing modes for each chord, Ample Guitar
Strummer can be varied even when you play only one chord.
2.3.3 Ample Guitar has 5 humanize settings with Which makes two identical MIDI tracks can sound different. We are trying to save your effort.
download from free file storage