Ueberschall Balkan Lines VSTi RTAS AU HYBRiD DVDR-AiRISO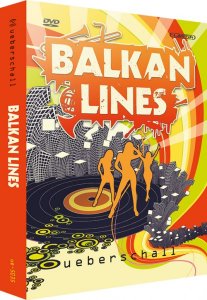 Team AiRISO | 10/2008 | 3.20 GB
New from Ueberschall, Balkan Lines combines a touch of pure Balkan traditions (Gypsy, Turkish, Serbian, Greek, Romanian, Slavic and other Southeastern European influence) with contemporary and progressive rhythms from Dance, Club, RnB and Marching Band.
Ueberschall say that Balkan grooves are in High-Demand across the pro audio terrain and can be heard in countless blockbuster scores, but that now getting easy access to these styles for blending in a comprehensive hi-fi solution is no problem for all - a ton of variation for the authentic Balkan experience or even just a shade is available to your productions.
Balkan Lines is specialized production made in close cooperation with:
* Superstar Orkestar - celebrated Balkan brass band
* Aref Shakouri - Violinist extraordinaire
Thousands of grooves and phrases are included with some of the most complex acoustic / synthetic rhythmic blending to date. The stylings include a diverse assortment from Reggaeton to House / RnB Hip Hop as well as traditional Pop influence.
Ueberschall tell us that the mix-lines deliver an inspiring overview and supply an immersive brainwave of the beats inner drive. They say that the drum parts without the back-lines are punchy and groovy enough to get any listener to bounce in their seats and the high quality acoustic instrumentals and synthetic samples can be applied and used in endless project formats.
Balkan Lines also features high quality samples and phrases of:
* Accordion
* Acoustic and Electric Guitar
* Bouzouki
* Oud
* Kanun
* Darbucka
* Organs
* Gypsy style Vocals and Claps
* Traditional Keyboard solo Licks
* Synth Leads and FX
* Power Bass lines
* Scratch Noises
* Rap and Spoken words
Balkan lines is powered by the Elastik engine which contributes all the flexibilities for usage within professional DAW environment and also works on it's own. All sounds are ready to use and browse from the start.
Produced by: A-tee (Oriental RnB)
* 3.6 GB Balkan Lines, 1070 Loops and Samples
* Elastik Soundbank for Mac/PC/AU/VST/RTAS
* Elastik Player included - no sampler required.
Install:
1) Unrar and mount or burn.
2) Install and use keygen.
3) Enjoy this fine Team AiRISO release !!!
Ueberschall.Balkan.Lines.VSTi.RTAS.AU.HYBRiD.DVDR-AiRISO
SUPPLIER..: TEAM AiR CRACKER....: TEAM AiR
PACKER....: TEAM AiRiSO PROTECTION.: C/R
DATE......: 10/2008
SiZE......: 4,34 Gb
SYSTEM....: WiNXP OSX
FORMAT....: VSTi DXi RTAS AU REASON GiGA WAV CDDA REX KONTAKT EXS AKAi HALion STANDALONE
Reuploaded. PiRAT