Nembrini Audio MP1 Pro v1.0.0-TeamFuCK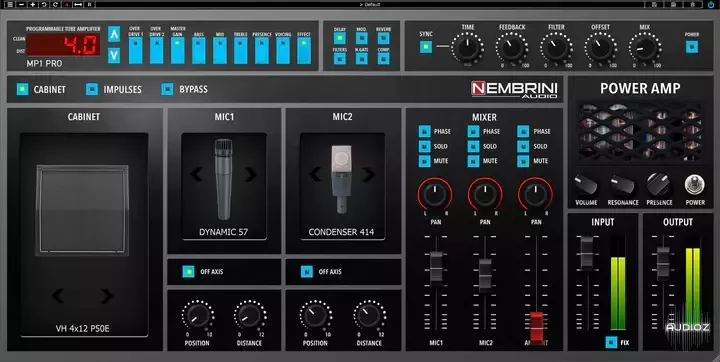 TeamFuCK | 7 feb 2023 | WIN | 104 MB
MP1 PRO PROGRAMMABLE TUBE GUITAR AMPLIFIER
The Most Tonally Flexible Guitar Amplification Since the 80's NOW plugin.
Nembrini Audio MP1 Pro Guitar Amplifier plugin is based on a ADA MP1* preamplifier.
Nembrini Audio MP1 Pro features a Tri-State Voicing selection that allows you to choose between Distortion Tube, Clean Tube, or Solid State virtual circuits.
Powered by four EL34 virtual tubes with presence, resonance, volume and power switch in class AB push-pull configuration.
DIGITAL DELAY FILTER make the delay Lo-Fi and OFFSET create a time offset in left/right delay sections
ANALOG MODULATIONS select Chorus or Tremolo modulation
AMBIENT REVERB Hall reverb algorithm
FILTERS CLEANER TIGHT filter suitable for 7 / 8 strings guitar, Low and High cut filters PRE and POST amplifier
ANALOG NOISE GATE tuned for guitar and bass with GATE speed control
STUDIO COMPRESSOR keep your dynamics in check, whether just thickening the sound or keeping levels consistent.
Nembrini Audio MP1 Pro Guitar Amplifier features six different guitar cabinets, four microphone emulations with on/off axis position switch, continuous position and distance knobs.
Impulse Loader lets you load up to three third-party impulse responses that you can even blend together using volume, pan, phase, solo and mute controls.
Un cabrero extremeño dice,

No custom installer, only VST3

1. Install with original setup
2. Manually replace the .vst3 file

Protection: PACE/iLok
download from free file storage