East West Hollywood Choirs Diamond v1.0.7-DECiBEL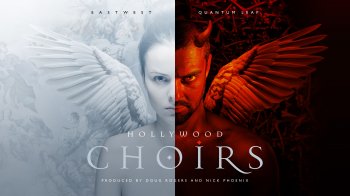 Team DECiBEL | 24 Jan 2022 | 54.92GB
A CHOIR TO BRING DOWN THE HEAVENS
Produced by industry titans Doug Rogers and Nick Phoenix, Hollywood Choirs is the best-selling and most awarded virtual choir product ever made. You have absolute control over a full choir with dramatic dynamics - soft and lyrical, to epic and overwhelming. No matter how grand the story you need to tell, Hollywood Choirs provides you with the tools to express it fully. Hollywood Choirs gives you an excellent way to transform the quality of your cinematic compositions or simply give you another powerful resource to build outstanding productions - and you can type in any word into the WordBuilder engine and hear it performed in real time.
WORDBUILDER 2
Using WordBuilder 2, you can type in any word or phrase and the entire choir will sing it in perfect unison. The built-in English, German, Italian, Spanish and Latin phrases give you a wide range of artistic potential, and you can string them together to effortlessly achieve an imposing result in minimal time. Every phrase can be tweaked and re-written, ensuring you get up and running immediately. And if none of the 781 pre-built phrases give you the starting point you need, you can easily type the exact phrase you need into the WordBuilder engine and hear it reproduced perfectly.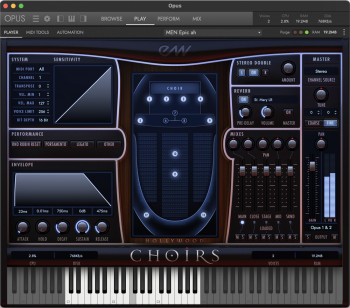 UPDATES INCLUDEAll New Phonemes
- New vowels and consonants added for increased realism, with the ability to stretch or compress individual phonemes as desired.
Frequency Dependent Consonants
- Non-pitched consonants now sampled with high and low frequency variations.
Global Phoneme Balance
- Vowels, Pitched Consonants and Non-Pitched Consonants have volume sliders that allow you to adjust the relative balance between phonemes.
Independent Handling
- All consonants that fall at the end of a word are now handled independent of those that begin a word, resulting in more realistic delivery of words.
Consonant Volume Scaling
- WordBuilder detects the number of notes in a chord and applies volume scaling to consonants to ensure they remain at an intelligible level.
Alternative Takes of Non-Pitched Consonants
- Instead of using a traditional 'round robin' system that cycles through alternative takes, often leading to inconsistent results, you can define which alternative take sounds best and Hollywood Choirs will use that across every phrase.
- Blockbuster male and female choir with huge dynamic range
- Built-in WordBuilder 2 engine for micro-edits to phrases as needed
- Created by award-winning sounds producers Doug Rogers and Nick Phoenix
- Recorded with a 13 mic setup for surround sound and virtual reality
- Diamond Edition: 59 GB of 24-bit, 44.1kHz samples with Main, Close, Stage, Mid, and Surround mic mixes
- TEC Award Winner, 10/10 MusicTech Excellence Award, Sound on Sound Award Nominee
You need R2R PLAY/OPUS release to use this library (as a witch has said...)

Read the included txt file in the DECiBEL dir for install instructions.