East West 25th Anniversary Collection Ill Jointz v1.0.0-R2R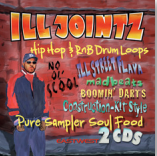 Team R2R | 2022.01.01 | 1.02 GB
New York producers Anthony "Jovier" Kerr and Eddie "E Smoove" Bell present Ill Jointz – Hip-hop and R'n'B Loops, the cutting edge of street flava all here for your sampling pleasure!
Over 2 1/2 hours of construction kit style loops, with all loops broken down into their basic elements! All loops are at least 4 bars long so that you can feel the flow, cut them up, and combine them into all new combinations. Keyboard magazine gave Ill Jointz 9 out of 10 and wrote, "The vibe is strictly mellow hip-hop with this set, but within that is a remarkably wide range of grooves and colors. The instrument combinations are very inventive and effective. There is more of a live instrument feel to this collection than on some other sets I've heard, which is a nice change."
download from free file storage

A witch says,

You need R2R PLAY/OPUS release to use this library.