Eventide Ensemble Bundle v2.15.1 FIXED-R2R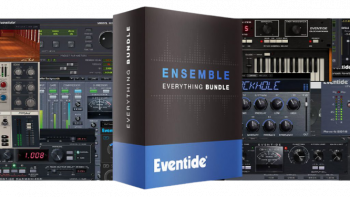 Team R2R | 10 Nov 2021 | 359.5MB
Eventide plug-ins give you the ability to make your recordings evoke the sonic landscape of legendary albums and open the doors to the creation of new sounds never heard before. Our legacy plugins like the H910 Harmonizer and H3000 Factory recreate the iconic sounds used by top artists, engineers and producers such as Steve Vai, Tony Visconti, Dave Pensado, Jimmy Page, Frank Zappa, Eddie Van Halen, and many more. Ensemble is also packed with new, award-winning effects such as Blackhole, Tverb, Physion — unique tools not found anywhere else.
The Ensemble bundle includes emulations of legendary boxes plus classic EQs, compressors, dynamics processors, delays, reverbs, and pitch changers used by the best in the business.
Eventide plug-ins sound exactly like the original hardware
To truly experience the unique sound of classic gear, the plug-ins need to be painstakingly designed to faithfully emulate the nuances of primitive analog and digital circuitry. When Eventide recreates a classic piece of gear, it is one of our own. These plug-ins are not emulations created by third parties.
A witch says,

* No iLok Driver installation is
required to run.

* Our release loads faster and uses
less memory than legit version.


FIXED :
SplitEQ (AAX) wasn't unpacked properly in the previous. It has pretty rare PE structure - we once saw this in Gullfoss EQ.