Pajczur PajSoil EiS x64 VST3 AU AAX WiN MAC [FREE]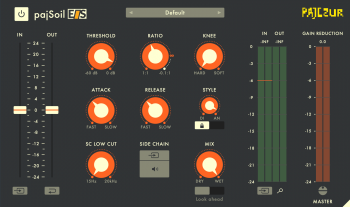 FREE | 23 March 2021 | 20 MB
PajSoil EiS is the light version of pajSoil "unrestricted compressor". Although it is light it still has key features from classic pajSoil, like negative ratio, zero attack and release times, feedback compression, look ahead slider or side chain filters. It's high quality and versatile audio compressor with all features that modern compressor should have, but with lighter GUI and less CPU load.
PajSoil EiS like its bigger brother was designed especially for creative, experimental and exaggerated compression.
With its ability of unbelievable deep negative ratio (up to -0.1) you can easly achieve very deep ducking effect and other fascinating results.
With zero attack/release times mixed with unique lookahead functionality, you can destroy your sound in really creative way.
Its versatility also allows for glue style compression on mix bus or master track, and for gentle and invisible levelling for vocals, guitars or synthesizers.
PajSoil EiS compressor introduces many unique features like:
• Iunbelievable deep negative ratio – up to -0.10;
• Iextremely short times (up to total zero )of attack and release;
• Ilook ahead (from 0 to 20ms) option provided by new, sophisticated and unique algorithm that calculate signal volume in run time, and apply gain reduction gradually;
• Ivarious characteristics of attack and release that can be fluidly changed and automated from Digital style to Analog style;
• IHold time feature: from 0 to 50ms
• Iside chain low cut filter;
• Iparallel compression thanks to mix knob;
• Iability to choose external side chain signal;
• Iand many more modern features…
Available formats:
• Mac – aax, vst3, Audio Unit;
• Windows – aax, vst3;