Uhhyou WaveCymbal v0.1.0 x64 VST WiN MAC LiN [FREE]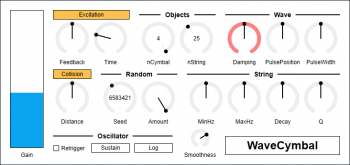 x64 VST WiN MAC LiN, 5mb
WaveCymbal is an attempt to make a cymbal synthesizer with banded wave-guide model.
The result is more like dragging bunch of empty cans or thin metal plate on asphalt rather than cymbal.
Output may be very loud. It is recommended to always insert limiter after WaveCymbal:
Can be used as both synth/FX.
Monophonic. One instance represents one physical object.