Positive Grid BIAS Amp 2 Elite Complete v2.2.8 Incl Keygen-R2R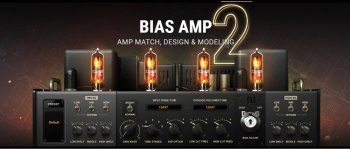 DATE : 2019.06.07 | NUMBER : R2R-8068 | SiZE : 252.53 MB
PLATFORM : WiN32/64 - EXE/VST/AAX
Your tone is your identity – and sometimes nothing less than a custom setup can deliver the goods. BIAS AMP 2 is the ultimate virtual amp designer, authentically recreating the tone and feel of real tube amplifiers, while allowing you to mix and match components to create your ideal amp. You can use Amp Match to clone the tone of real hardware or a guitar track, or connect to the ToneCloud® to gain access to thousands of custom amps from artists and recording studios, or upload your own custom tones to the cloud. BIAS AMP 2 represents a revolution in virtual amplifier design, providing the tools to take your ultimate guitar tone with you anywhere, from the studio to the stage and back again.

* BIAS AMP2 Elite
* Celestion Classic Pack
* Celestion Modern Vintage Pack

Do not use ToneCloud. ToneCloud is web service. If you really need it, buy
the software (and get the right to use the service). Some cracks available
from others claim as if they crack the ToneCloud, but it's not true. The
license validation in ToneCloud is done in the web server which means it's
not really crackable. All those cracks just ignore the server response which
invalidates the license.

1.PositiveGrid can update the server to reject the access from invalid
license anytime by updating server.

2.PositiveGrid can trace the user who used ToneCloud without buying.

No one can crack web related function(s) permanently and safely.

----------------------------------------------------------------------------

If app asks you to login, skip it.