Arboretum Hyperprism DX v2.5-0xdBass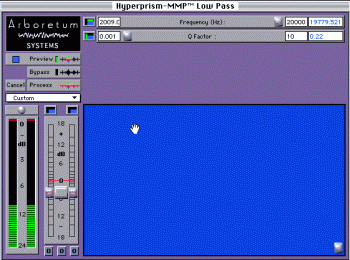 Team 0xdBass | 07/05/2003 | 3.36 MB
If you're already using sound editing software for Windows, take a moment to ask yourself a serious question: What could you do with a full rack of signal processing tools?
Sure, you can accomplish a lot with the audio editing software you already have, but it only has a limited amount of signal processing built-in. So you have to ask yourself: What types of sounds would you make if you actually had all the toys at your disposal, dozens of different digital processors, the same sound shaping technology the pros use?
If you want the maximum amount of powerful audio processing, Hyperprism DirectX is the only complete solution. It adds a vast array of effects to any audio program that supports the DirectX plug-in format for Windows.
Built especially for electronic music production and film/video sound design, Hyperprism offers a vast assortment of different audio processes - a virtual rack of effects. Hyperprism is the most complete multi-platform collection of digital audio software effects in the world.
Hyperprism Filter Processes:
Low Pass
High Pass
Band Pass
Band Reject
Hyperprism Modulation Processes:
Vocoder
Frequency Shifter
Phaser
Flanger
HyperPhaser
Chorus
Ring Modulator
Tremolo
Vibrato
Hyperprism Delay and Reverb Processes:
Single Delay
Multi Delay
Echo
HyperVerb
Room Reverb
Hall Reverb
Granulator
Hyperprism Stereo Processes:
Pan
Auto Pan
Quasi Stereo
Stereo Dynamics
More Stereo
M-S Matrix
Hyperprism Miscellaneous Processes:
Harmonic Exciter
Bass Maximizer
Tube/Tape Saturation
Pitch Changer
Formant Pitch Shifter
Noise Gate
Compressor
Limiter
Sonic Decimator