Toontrack Superior Drummer 3 v3.0.1 WiN incl. Patch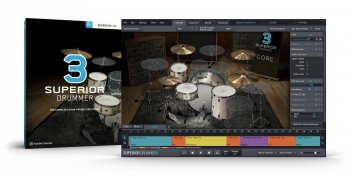 WiN incl. Patch | 286.74 MB
Building on the legacy of its predecessor, Superior Drummer 3 was redesigned from the ground up to introduce a completely new and improved workflow, countless added features and an unequalled amount of raw sound material. With Superior Drummer 3, you are in total control. Welcome to the future of drum production.
FEATURES – AT A GLANCE.
In excess of 230 GB of raw, unprocessed sounds in 44.1 kHz/24 bit
Recorded with an additional eleven separate room microphones set up in a surround configuration for a complete immersive experience
Playback in stereo or up to 11 channel surround systems
Approx. 350 vintage and classic drum machine sounds
New and improved scalable interface with detachable windows
Edit Play Style, Tap2Find, Song Creator and Song Track features as well as improved workflow and search functionality
Built-in MIDI grid editor
DAW automation for built-in macro controls
Support for keyboard shortcuts
NOTE:
Install the original SD3 software
Replaced original VST file with Patched VST file
Sound library cooming soon!!!
download from free file storage
Toontrack Superior Drummer 3 SDX Core Basic Sound Library WiN/OSX