NoiseMakers AmbiHead v1.0 NeBULA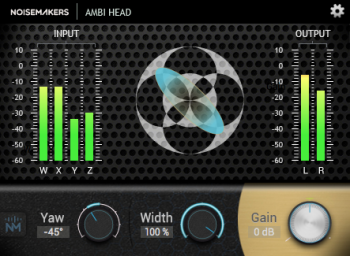 Ambi Head is a professional plugin for converting ambisonic signals into 3D binaural audio. It allows manipulations of 3D scenes (rotations and control of spatial width) and contains HRTF filters specifically designed for immersive listening and accurate reproduction of B-format signals.
Custom HRTF filters can be loaded via the integrated SOFA importer, letting users choose "custom heads" for personalized binaural rendering.
An integrated Goniometer provides visual display of the binaural output (Lissajous display) giving meaningful insights into the scene spatial properties.
Features:
3D binaural decoding of Ambisonic signals
Spatial width control
Scene rotation (Z axis)
SOFA importer for custom HRTF filters
Goniometer (Lissajous display of the binaural output)
Sampling frequency up to 192 kHz
Input : B-format (WXYZ)
Output : BINAURAL STEREO