Tone Stack v.1.2 iOS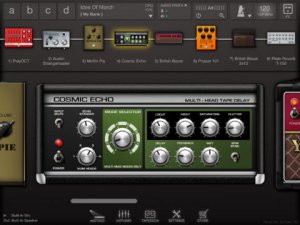 Tone Stack v.1.2 iOS | 201.15 MB
ToneStack offers a huge range of amps, cabs & FX: sizzling tube amps, iconic stompboxes, pro-grade rack units, and high-end reverbs make ToneStack the most complete plugin suite on the iOS.
Right away, enjoy 6 classic amps & cabs, and 21 meticulously designed FX. Expand to a total of 24 amps & cabs, and 71 FX – the largest collection on iOS.
ToneStack also brings many powerful guitar FX to the iOS for the first time: polyphonic octaver, harmonizer, realistic spring reverbs, virtual-reel tape delays are just a few examples.
The Most Versatile Signal Chain on iOS
Why be limited with just 4 or 8 FX that other guys max you out at? ToneStack lets you run a whopping 64 amps & effects simultaneously* so you can let your imagination run wild.
For even more power, ToneStack includes a unique ABY unit not found in other FX apps. Split your signal anywhere: run dual amp setups, switch or blend FX chains, or multiplex your signal via frequency splitting – countless permutations, all up to you.
You can match any amp with any cab (all cabs have 3 mics with distance & position settings); you can insert any unit anywhere – even between amps and cabs like a true FX loop. Managing your signal chain is as easy as dragging and dropping an icon!
inSTUDIO & Other Goodies
Wanna quickly sketch out an idea, or cut a song and share it? ToneStack offers a powerful 8-Track recorder – first two tracks free — with plenty of user-friendly features. Fire up the built-in Tapedeck to quickly record an idea or create loops, or manipulate audio with its Hi-Q pitch & time shift. Import & export audio via email, WiFi, iTunes or copy/paste. Built-in tuner, metronome and a custom onSTAGE mode are just a few other amazing ToneStack features.
All the Pro Features of iOS
Enjoy the full power of the platform's top MIDI and Preset systems. MIDI learn is super-intuitive thanks to ToneStack's WYSIWYG interface: all the amp & FX controls are MIDI-programmable. Effortlessly create UNLIMITED banks and presets – share them at the touch of a button. ToneStack is an Inter-App Audio effect, and works in any Audiobus slot.
Highlights
• "Virtual Circuit" amp & FX modeling technology
• Units modeled after real-life topologies
• ABY: split signal anywhere, use dual amp setups, blend, pan or switch FX chains & more
• Complete collection: 24 amps & cabs, 71 FX, with stompboxes & rack-units and more!
• 64 simultaneous amps & FX*
• Independent amps & cabs
• 3 mics per cab w/ distance & position setting
• 8-Track recorder w/ 2 tracks free
• Tapedeck w/ punch looping, sample-accurate rec, pitch/time manipulation, FX send & more
• Tuner w/ permanent & fullscreen modes
• Metronome, tap tempo, settable time signature
• BPM sync mods & LFOs
• onSTAGE mode w/ quick preset load & FX toggle
• Unlimited banks & presets; easy preset sharing & more
• Extremely powerful MIDI: control any amp or FX parameter
• Easy MIDI Learn
• MIDI prog changes + bank & preset up/down
• Audiobus: input, FX, output, state-saving
• Inter-App Audio FX
• Audio copy/paste, email, WiFi, iTunes sharing
• And a lot more!
Hardware
• Works with iOS compatible USB or headphone jack interfaces (USB recommended for best audio quality)
• Requires iPad 2, iPhone 4S, iPod Touch 5 or newer
Visit us at www.yonac.com
* Device CPU limitations apply
Whats New?
• Revamped connections screen
• You can now toggle any unit directly on the connections screen: simply tap the unit's name, located underneath its icon
• Similarly, tap on ABY icons' name area to cycle through splitting modes
• Color coded icons for instant visual feedback
• ToneStack now comes standard with a volume pedal so that you can use your favorite MIDI controller for swells or level adjustments. The Volume Pedal is located in the Modulation category.
• 3 types of output limiting / clipping protection: Tape 1, Tape 2 & Standard. Select the type or disable by going to AUDIO PREFS menu
• Increased sound definition
• Extended MIDI connectivity preferences
• Can now individually turn hardware or virtual MIDI in ports on/off
• Individual input & clock toggles for hardware & networked MIDI connections
• New MIDI learn features
• Can now map MIDI values to a new range using MIDI Min/Max properties (continuous parameters)
• CC State Control option for continuous parameters: when enabled, automatically turns off associated unit when MIDI value is 0; if MIDI value is increased, turns unit back on.
• Ability choose Latch or Momentary control type for toggles & switches
• MIDI Tap Tempo
• Increased output levels for delays
• Improved unit replace (touch & hold) behavior
• Silent switching
• Audiobus state saving: now saves the complete preset into Audiobus, so you can share via Audiobus
• Other improvements & fixes