[FREE] Kushview Element 0.45.1 [KiTTY]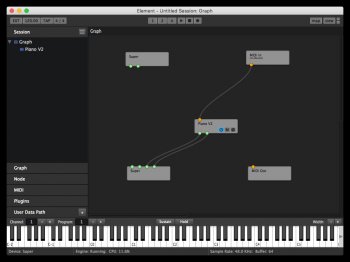 KiTTY | 12.04.2021 | macOS | AU / AUi / AU MFX / VST / VSTi | 32,3 MB
Inject your imagination directly into your music project. Break free of your DAW, run any and all of your software plugins as a stand alone software, or expand the compatibility and features of your recording software with Element Pro!
As an Instrument:
load your virtual instrument software in one place and connect the nodes together to design the perfect customized sound.
As an Effects Rack:
combine and configure your AU/VST/VST3/AAX audio plugins on the fly in any way you like, enabling you to reinvent the way you make music.
An excellent multi-format graph-based audio plugin hoster and chainer. Not many seem to know about it. Includes custom app icon designed by me in Ableton Live style.
This plugin is open source, but it's not free. The older version posted here was tagged as free, so I did the same. Anyway, if you like my release I suggest throwing a couple bucks to Kushview. This project is really nice.
Installation:
Other: