Native Instruments Maschine 2 v2.10.0 MacOSX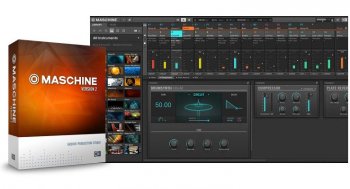 Standalone, AU, VST |March 17, 2020 | 243.03 MB
MASCHINE a revolutionary system for creating grooves tactile creative bit-making organization of recognized sound library Kontakt 5 any other VST, VSTi library.
Together with the software package for creating beats MASCHINE create quickly and easily combine the power and flexibility of software with tactile immediacy of hardware. His sequencer based on patterns, high-performance sampler, has an incredible set of professional tools and studio effects, exemplary drum synthesizers and library Kontakt 5 are you a complete system for quickly and professionally create grooves.
Release Notes:
2.10.0 — 2020-03-05
• ADDED Auto-Growing Patterns
Upon creating a new Pattern, the length no longer needs to be defined in advance
(still can be, but is optional). You can record into a Pattern as long as you like
and after you are done recording, any silence at the end will automatically be
trimmed to the nearest Bar (quantization can be adjusted via grid settings). After
recording you can define the Start of your Pattern and Length, to pick the take or
part of your recording that you liked best. This feature can be disabled in the
preferences.
• ADDED Pattern Start Position
You can now define a Start-Offset for each Pattern. The above mentioned play range
(set via Start and Length) can be freely moved throughout the Pattern via the
Position marker from HW-Controllers or by dragging the loop range left and right in
the Software.
• ADDED Pattern Play Position indicated on the LED Touchstrip for MASCHINE MK3 and
MASCHINE MIKRO MK3 (when Touchstrip is not used otherwise)
• FIXED A problem where Multi-Outputs of MASCHINE 2 were not working correctly in Pro
Tools
• FIXED A crash when loading Meteoric Rise: Tomahawk Kit and creating a Pattern
• FIXED a crash / error message "project could not be saved" when switching between
Audio-Module and Sampler
• FIXED a crash when opening projects from the "Open recent" tab in the file menu

Install Notes:
Just install and enjoy!