Audio Damage AD036 Dubstation 2 v2.1.0a MacOSX RETAiL-SYNTHiC4TE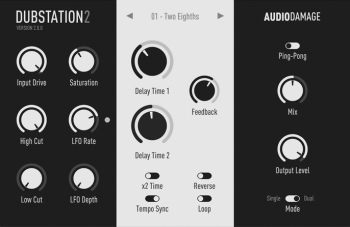 SYNTHiC4TE | Nov 27 2019 | 4.2 MB
The original dub delay plugin and still the best! Dubstation 2 takes our most popular product and adds a whole raft of new features, including a dual mode for separate control over the left and right delay times, ping-pong, a new feedback saturation algorithm, and an LFO. Along with an all-new procedural and Retina-friendly user interface and (FINALLY!) ProTools compatibility, this represents a major leap forward for one of our signature products.
All those bells and whistles aside, the heart of Dubstation is our painstaking bucket-brigade delay model. Often imitated, but never duplicated, Dubstation has been the go-to plugin for that sound for over a decade, used in thousands of commercial productions, and with good reason. With the addition of the LFO and saturation controls, Dubstation has moved in to the realm of tape delay emulation as well, and is a sonic Swiss Army knife for delay.
Changes in v2.1.0a
There are no changes in the Windows and Linux installers. Only the OSX installer is updated. This is to address a problem Apple introduced by "accidentally" altering one of our signing certificates.
This is a necessary update for any Dubstation user on macOS after Mojave 10.14.5, as Gatekeeper will blacklist the plugins. If you triggered the blacklisting, you will almost certainly need to do a re-scan of the plugin to clear the blacklist. If you are a Live user, you can opt-click the Rescan button in Files/Folders to force a rescan and clear the blacklist.