Cardinal Rack v23.09 VST2 VST3 AU LiNUX WiN macOS [FREE]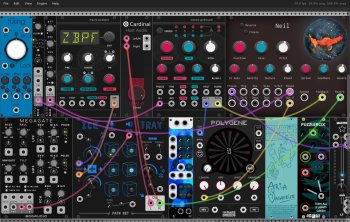 FREE | 17 September 2023 |WiN : 912 MB / macOS : 882 MB / LiNUX : 877 MB
Cardinal is a free and open-source virtual modular synthesizer plugin, available as JACK standalone and AU, LV2, VST2 and VST3 audio plugin for FreeBSD, Linux, macOS and Windows.
It is based on the popular VCV Rack but with a focus on being a fully self-contained plugin version.
More specifically, this is a DPF-based plugin wrapper around VCV Rack, using its code directly instead of forking the project, with the target of having a proper, self-contained, fully free and open-source plugin version of Rack.
See the why section below for the reasons Cardinal exists, also for frequently asked questions check this FAQ document.
Cardinal contains Rack, some 3rd-party modules and a few internal utilities all in a single binary.
All "Core" modules from Rack have been replaced by Cardinal equivalents, simplified to better work for an audio plugin.
Cardinal does not load external modules and does not connect to the official Rack library/store.
All VCV branding has been removed (to the best of our knowledge) in order to avoid any trademark issues.
The VST3 version is in progress, already part of the build but still experimental.
Stable release
Cardinal releases have official builds for Linux, macOS and Windows.
There are Linux builds for various architectures (armhf, arm64, i686 and x86_64), macOS "universal" (arm64 + intel) and Windows 32 and 64bit builds. Both macOS and Windows builds have an installer.
Plugin variants
Cardinal provides 3 plugin variants - "main", Synth and FX.
They are all equivalent in performance and behaviour, with only the IO and metadata that changes.
This is because some hosts are very strict on which plugins are allowed as instruments vs FX, so separate variants of the same plugin are needed.
FX and Synth variants both have 2 audio outputs, while "main" has 8.
All variants have MIDI input and output support.
Main
This variant provides 8 audio inputs and outputs and 10 CV inputs and outputs.
NOTE: Due to AU and VST2 formats not supporting CV ports, this variant is not available for those formats.
Synth
This variant provides 2 audio outputs but no audio inputs or CV ports.
Plugin type is set as "instrument".
FX
This variant provides 2 audio inputs and outputs, but no CV ports.
Plugin type is set as regular "effect".
Screenshots
Because people will ask for it. It is, well... Rack.
But a couple of modules background's have their colors flipped, because damn we want proper dark mode!
Module browser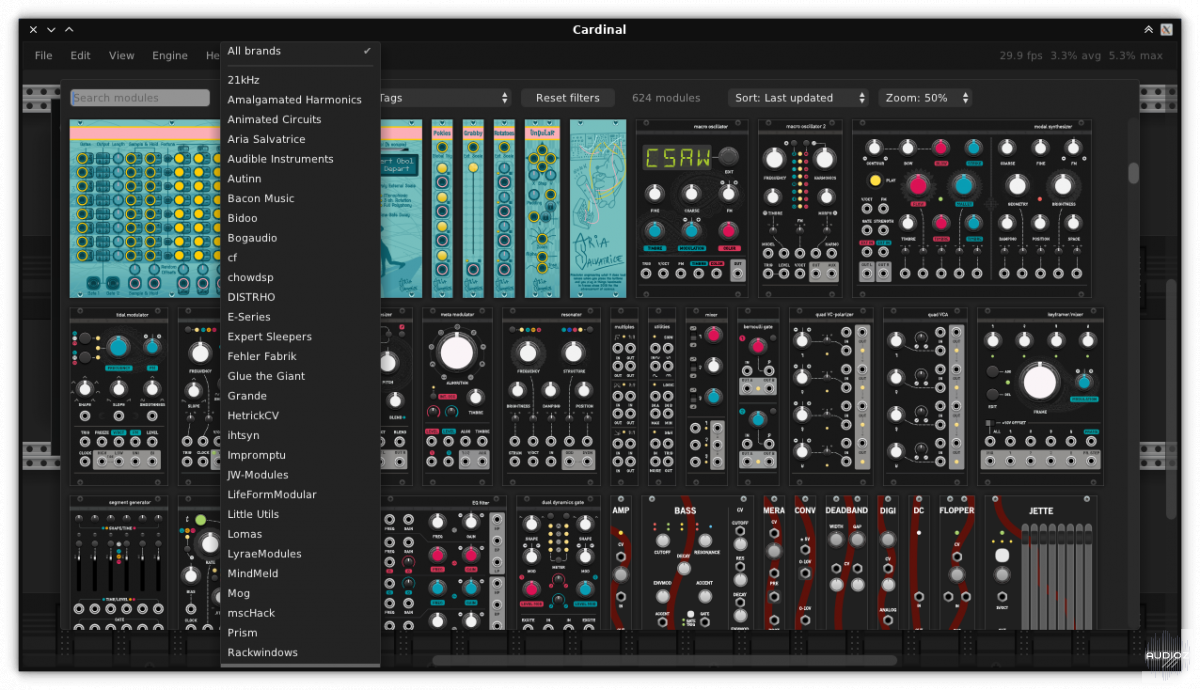 Basic patching

Carla and Ildaeil plugin hosts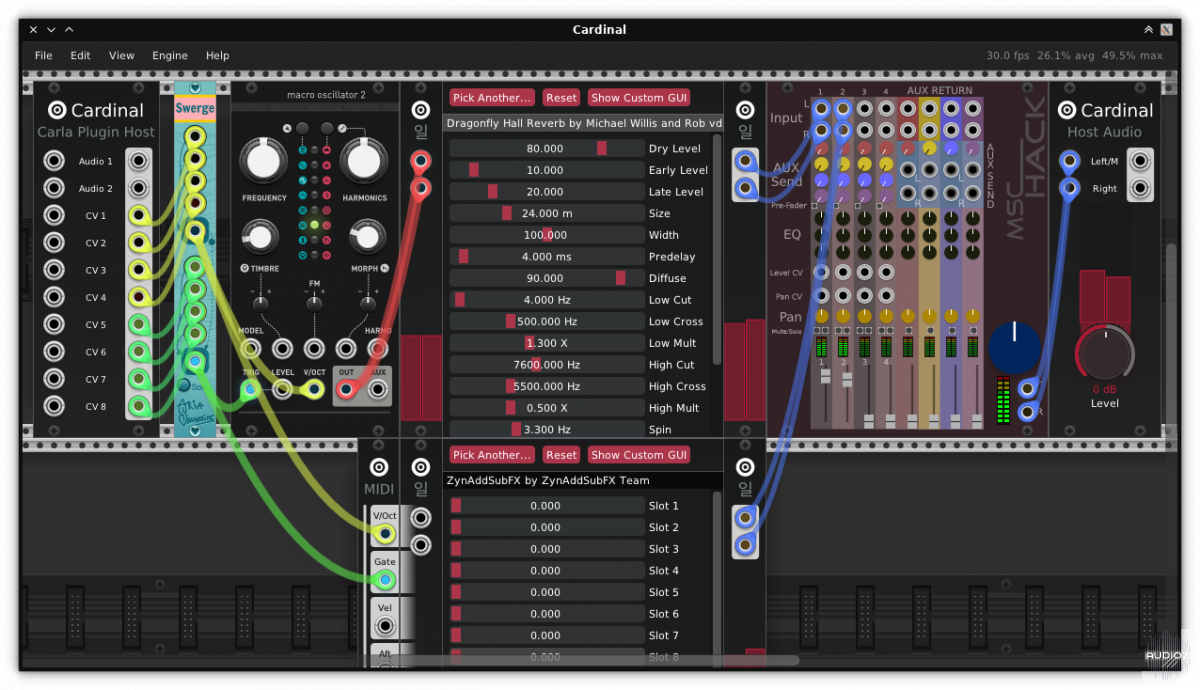 Custom Fundamental modules design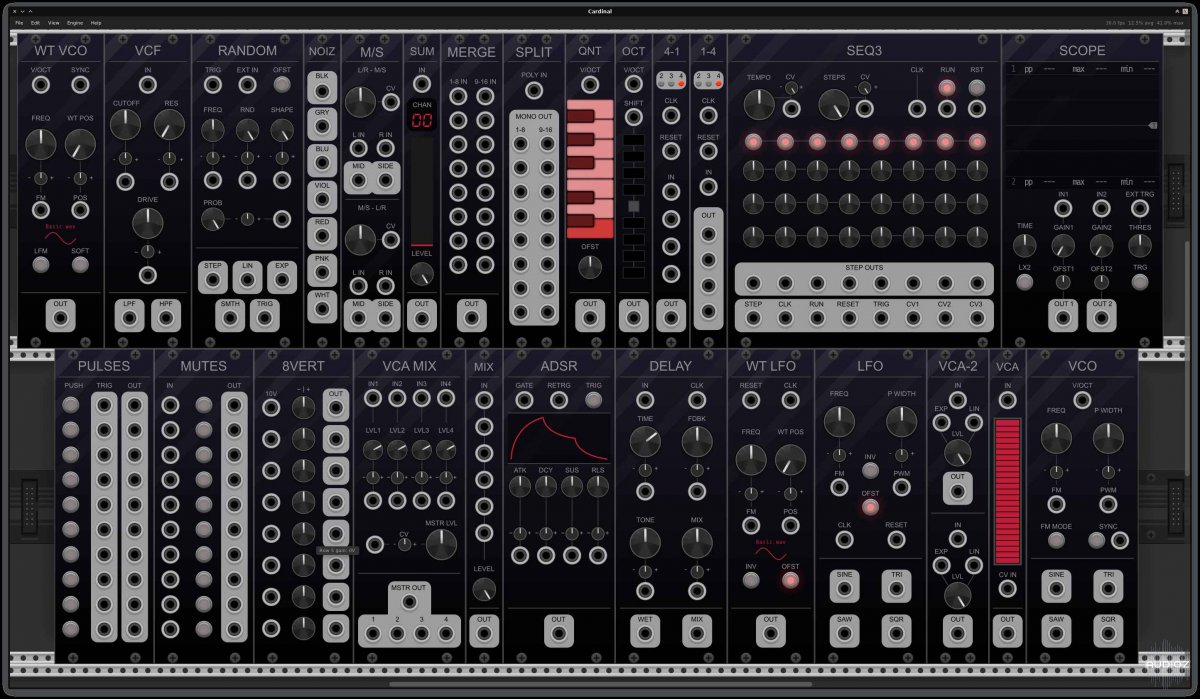 Included modules
At the moment the following 3rd-party modules are provided:

Spoiler
A feature comparison between Cardinal and Rack Pro can be seen here

Changelog:
- Add OSC Remote control (see [docs/OSC-REMOTE-CONTROL.md](https://github.com/DISTRHO/Cardinal/blob/main/docs/OSC-REMOTE-CONTROL.md))
- Do not try to save and load module info per project, its global setting since 22.07
- Fix a few missing details in macOS app bundles
- Fix Cardinal Mini window title after loading patches
- Fix crash when pressing F9 (used internally for generating screenshots)
- Fix crash when window creation fails (e.g. running headless)
- Fix headless build when OpenGL is available (but unused since it is headless)
- Fix stuck notes in CardinalNative MIDI handling
- Fix VST2 parameter changes
- Proper handling of XDG_DOCUMENTS_DIR
- Switch to regular/initial welcome patch for web/wasm builds

Modules related changes:

- Add EnigmaCurry
- Audio File Player: Fix resampled playback for some files, many CPU optimizations
- Ildaeil: Add bridge reload button, in case hosted plugin crashes or times out
- Ildaeil: List Windows plugins under Linux
- Update unless_modules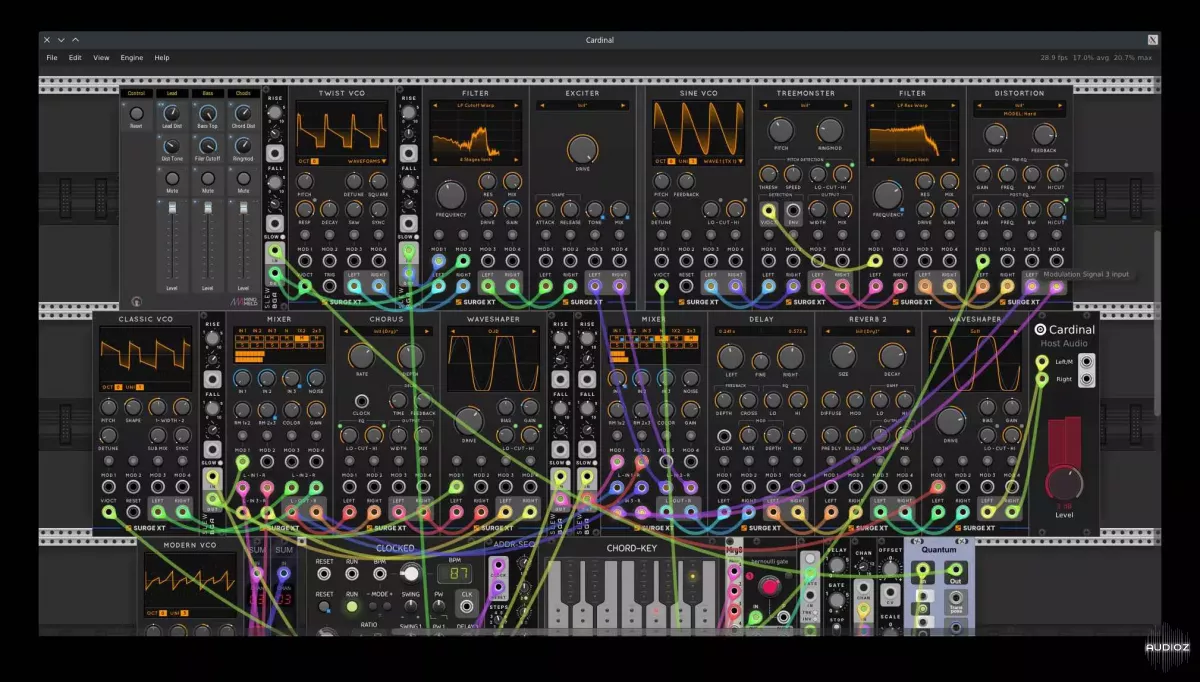 download from free file storage