Xfer Records OTT v1.35 VST VST3 AU AAX WiN MAC [FREE]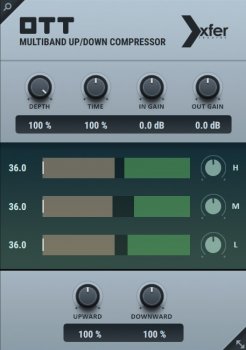 FREE | 13 May 2022 | 29.1 MB
Xfer Records OTT is a free re-creation of a popular aggressive multiband upwards/downwards compressor set-up used by many dubstep and electro producers.
Changelog:
1.35: UI scaling improvements

Fixes a VST3 ID issue with 1.33/4 - previous OTT versions were not loading due to an ID mismatch. unfortunately this means if you used the 1.33 or 1.34 VST3 version, it now might not appear in saved projects, depending on your DAW. If you have important settings you need I would recommend either sticking with 1.34, or if you read this too late, we can send you the 1.34 installer via a support request.