IK Multimedia AmpliTube 5 v5.0.3 WiN (Installer Only)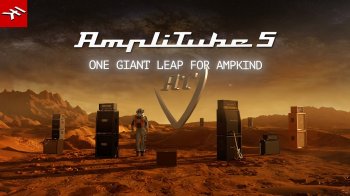 WIN | 09/06/2021 | 2,34 GB
IK Multimedia's AmpliTube software has forged a formidable reputation over the years for offering a comprehensive array of digital tone-tweaking tools, but AmpliTube 5 promises to eclipse its predecessors with with a newly designed GUI that is fully scalable and supports Retina displays, an enhanced user experience, and more gear. A lot more gear.
What's new in AmpliTube 5
- All new signal chain & routing freedom
- An all-new drag & drop signal chain supports up to 57 simultaneous models, series / parallel routing and blended DI signal for unprecedented creative freedom.
- New Cabinet section with VIR™ technology
- Powerful new "Volumetric Impulse Response" radically transforms all 100+ cabinets in AmpliTube 5 with over 143,000 impulse response measurements in all.
- Custom IR loader
- Load, tilt and re-size your own impulse responses in place of any cabinet.
- New Mixer with built-in effects
- A new mixer lets you easily blend multiple cabs, mics and DI, with 23 new mixing effects, including some from T-RackS 5 to add a final studio sheen to any track.
- New Gear
- 129 brand new models, including 2 new stomps, 5 acclaimed amps, 2 new rooms, 23 new rack FX and over 100 completely re-captured cabinets.
- Totally re-designed Custom Shop
- Adds a more modern, easy-to-navigate design, and allows users to demo and unlock gear faster than ever.
Changes from version 5.0.2:What's new:
- New Filter C, Filter M, Filter O and Filter R rack effects are now available for free for all AmpliTube 5 and AmpliTube 5 MAX users and are purchasable a la carte via Custom Shop for all other users.
- SLD 100 amp, 4x12 Metal T cabinet and Brit V2 speaker are now added to AmpliTube 5 CS collection and unlocked for free for all users.
Improvements:
- Fixed a potential issue using the cabinet split in the first chain.
- Fixed TBP-1 reversed buttons and non-functional MUTE.
- Fixed British Lead 1 and British Lead 2 missing MID knob.
- Fixed '59 Bassman LTD incorrect "Normal" channel name on GUI.
- Fixed misspelling on BPM sync for T-Rex Replica.
- General reliability improvements
NOTE: Installer only, use prior keygen to register.
download from free file storage