Tonelib : ToneLib Jam v3.5.7 Win/Mac/Linux [FREE]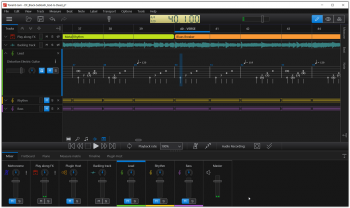 Win/Mac/Linux|126.49 MB
ToneLib Jam is the ultimate software dedicated to the beginner as well as the advanced guitar player. It is aimed at helping the user progress, compose, or simply accompany himself with the guitar.
Here is what ToneLib Jam offers:
Various Import/Export which give you the opportunity to take advantage of the hundreds of thousands of scores available on the Internet;
The ability to add and synchronize an original audio backing-track to your tabs;
At the desired locations in a song, you can assign your favorite Play Along effect sets so that sets will automatically be selected when the song playback reaches those points;
A multitrack score editor focused on tablature. It's easy to use, includes most notation symbols and it's specifically designed for stringed instruments;
ToneLib Jam allows you to view and listen to the song, with an accurate rendering of guitar effects, and an optimized display for the computer screen;
Tools aimed to assist the user on a day to day basis, such as the digital guitar tuner, the chord diagram tool, the scales tool, the fretboard display and more;
The ToneLib Jam lets you adjust the tempo of the currently-playing song without affecting its pitch. Combine looping with tempo adjustment to make learning even more effective.
Filehost IncludeUploaded | Rapidgator | Filefactory | Rockfile | Katfile