Inear Display Incipit v1.3 WIN OSX-ZEUS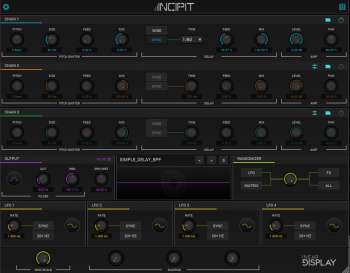 Creative Delay Toolbox.Created with sound designers in mind, Incipit is also a perfect fit for musicians who want to quickly mutate their sounds. Wether you need a subtle dub delay or a twisted alien texture, the intuitive user interface will get out of your way to quickly craft the perfect patch for the task.
Available as VST and Audio Unit for Mac OS and Windows (32 and 64 bit).
Features
3 Effect Chains including Pitch Shifter, Delay with optional tempo sync and output gain and panoramic controls
The chains can be processed in Parallel or Serial configurations
Optional Ping-Pong mode for the Delays
Mix amount for all the Pitch Shifters and Delays
Global Multi-mode Filter (Lowpass, Highpass, Bandpass, Notch)with optional routing for each chain
Processed signal Amplitude control
Dry/Wet Control
4 LFO Modulators with optional tempo sync and optional high rate mode (up to 1000 Hz)
3 Macro Modulators
All Modulations are processed at audio rate
Intuitive Modulation Matrix with positive and negative modulation amounts
Global Modulation Depth scaling parameter
Randomizer with sub-groups and random amount control
Over 80 factory presets
Oscilloscope
Clean Color Coded Interface
Resizable User Interface
Undo and Redo
Copy settings across effect chains
Define a custom startup patch
Cross-Platform presets
MIDI Learn
MIDI program change support
Changelog
=== Version 1.3 ===
- new : independent filter routing configuration per chain
- modified : various user interface improvements
- modified : preset navigation buttons now cycle through the list
- modified : new user interface scaling system
- fixed : occasional crashes
===