Stereo Tool 8.34 Multilingual + Plugin for Winamp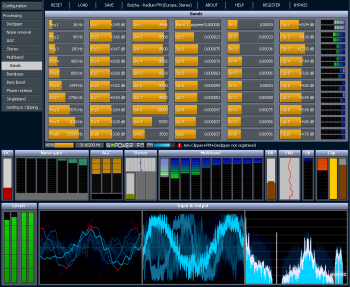 P2P | 2017 | 81 MB
Stereo Tool is a professional low latency audio processor that is used by hundreds of FM, AM and web radio stations all over the world, by musicians who use it to process their recordings, and by hundreds of thousands of people who use the free version to listen to music on their PC. Stereo Tool makes your music sound more consistent, powerful, clear and detailed than ever before - regardless of whether you play it through low end or high end equipment.
Stereo Tool can make recordings sound equal and consistent in volume and sound color, bring out the details, and increase existing stereo effects. It can repair 'broken' stereo images which often occur on cassette tapes, vinyl and cheap CD's, which normally causes havoc when playing it on a mono system, headphones or a system which includes a stereo widener.
Special support (not free) is included for radio stations: Much louder output levels, FM pre-emphasis, stereo coding and RDS coding for FM stations, and protection of highs against distortion caused by lossy compression for web radio stations. The processing latency can be reduced as low as 12 ms, at the cost of reduced fidelity. At the maximum quality the processing latency is 93 ms.
Winamp plug-in version
Intended for Winamp, SAM Broadcaster, RadioBOSS, MediaMonkey, AIMP and other applications that support Winamp DSP plug-ins.
Stand alone version
Sound card input to sound card output. Intended mainly for FM radio stations which process external (live) feeds.
Features:
» Stereo enhancement
» Dual-band pre-limiter
» 10-bands compressor/limiter
» 10-bands clipper
» 10-bands equalizer
» 4 level output limiter
» Extra loudness
» Output low- and highpass filter
» FM pre-emphasis
» FM stereo encoding
» FM RDS encoding
» Change settings from ext. scripts
2017/05/12 v8.34
SST: New licensing mechanism added.
Bug fix: SST web interface was allocating too much memory on the stack which could lead to stack overflows (stack is only 64 kB).
Bug fix: Stokkemask Use area set to 0 caused crashes (value was out of range, but one preset used it).
Bug fix: Some information was continuously rewritten when Low Quality monitoring was enabled.
MicroMPX: Rate control could act up due to clock jumps caused by a bug in Visual Studio. Workaround added.
Selecting the same Kernel Streaming sound card twice caused weird issues in Windows -> now detected before opening.
download from free file storage