Loopmasters Octapack v01 Dubstep WAV/OCATRACK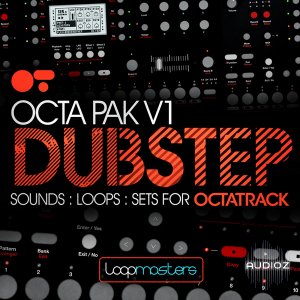 WAV/OCATRACK | 128 MB
Octapack V1: Dubstep' by Loopmasters is a new collection of sample packs and programs which have been put together specifically for the Octatrack - the radical new hardware sampler from Elektron which is destined to change the way electronic music is created and performed.
If you are looking for a sound collection inspired by artists including Benga, Skream, Skrillex, Caspa or Burial, then you are in the right place.
The Okta-Paks are custom built sets for the Octatrack filled with cutting-edge samples from Loopmasters, pre-arranged and loaded for ease of use.
They come with 16 built-in patterns and one arrangement demo ready for you to jump right in and start creating/mixing and mangling. Also included are 8 (Fader) scenes ready to assign for adding fills, filters and glitch effects to your live set.
The Paks contain both loops and one-shot samples. The Loops are assigned to the Flex Slots on the Octatrack whilst the one-shots and FX are assigned to the Static Slots for upmost flexibility.
Dubstep is the first Octa-Pak produced using only the finest cutting-edge loops and samples from the dark world of Dubstep, featuring Growling and Subliminal Basses, Aggressive Drums, Inspirational Music Loops, and Techy Percussive Loops and One-Shot Samples which have been handpicked by Loopmasters in-house team for their quality and raw edged sonic character.
'Octapack V1: Dubstep' weighs in at 250+ MB and is comprised of 282 Samples, with 176 Loops between 135 to 140 BPM, and 106 Single One-Shot Samples. 1 Octatrack Set is included, with 8 Scenes, 1 Arrangement and 16 Patterns.
Each of the 16 patterns have been created using combinations of the included loops and one-shots, for explosive beats and grooves and a ready to go live Octatrack performance set.
In detail, producers worldwide should expect 40 Bass Loops, 34 Drum Loops, 33 Music Loops, 13 FX Loops, 57 Percussive Top Loops, 16 One-Shot Bass Tones, 10 Cymbals, 16 Hi-Hats, 16 Kick Drums, 16 Percussion Samples, 16 Snares and 11 Synth Samples.
If you own an Octatrack from Elektron and want to make Dubstep or Urban Inspired music then this is the only collection on the market currently available of its kind - sample it today!
Reuploaded. PiRAT