Loopmasters Octa Pak Vol.4 Drum and Bass WAV Octatrack Set-MAGNETRiXX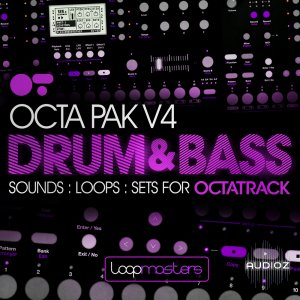 TEAM MAGNETRiXX | 01 February 2013 | 183 MB
Loopmasters are proud to present a collection of sample packs and programs which have been put together specifically for the Octatrack - the radical hardware sampler from Elektron which is destined to change the way electronic music is created and performed.
If you are looking for a ready to play Octatrack set, fuelled with cutting edge Drum and Bass inspired loops and one shot samples carefully chosen from the extensive Loopmasters library you are in the right place.
The Okta-Paks are custom built sets for the Octatrack filled with cutting edge samples from Loopmasters, pre-arranged and loaded for ease of use. They come with 16 built in patterns ready for you to jump right in and start creating/mixing and mangling. Also included are 16 (Fader) scenes ready to assign for adding fills, filters and glitch effects to your live set.
The Packs contain both loops and one shot samples, The Loops are assigned to the Flex Slots on the Octatrack whilst the one shots and fx are assigned to the Static Slots for upmost flexibility.
Drum and Bass is the fourth specifically designed Octa-Pak for the ultimate performance sampler that is the Elektron Octatrack. Expect to find Heavyweight Basses, Tight Pre-Sliced Beats, atmospheric Music Loops and Sharp Shooter Sounds and Fx.
Drum and Bass V4 weighs in at 320MB and is comprised of 265 Samples, with 127 Loops between 170 - 175Bpm, and 138 Single One Shot Samples. 1 Octatrack Set is included, 1 Set with 16 Scenes, 16 Patterns. 28 bass Loops, 33 Drum Loops, 5 Sfx Loops, 35 Music Loops, 26 Tops and Percussion Loops, 19 Bass Shots, 78 Drum Hits, 14 SFX Hits, 13 Stabs, 14 Synth Shots
Each of the 16 patterns have been created using combinations of the included loops and one shots, for explosive beats and grooves and a ready to go live Octatrack performance set.
In detail producers worldwide should expect 320Mb, 1 Set, 1 Project, 16 Fader Scenes,
If you own an Octatrack from Elektron and want to make Techno-inspired music then this is the only collection on the market currently available of its kind - sample it today!
Tech Specs:
320MB
1 Set
16 Scenes
16 Patterns
28 bass Loops
33 Drum Loops
5 Sfx Loops
35 Music Loops
26 Tops and Percussion Loops
19 Bass Shots
78 Drum Hits
14 SFX Hits
13 Stabs
14 Synth Shots
NOTE: Requires an Elektron Octatrack Hardware Sampler
Reuploaded. PiRAT