Auditory The Big Piano Pack MiDi-AUDIOXiMiK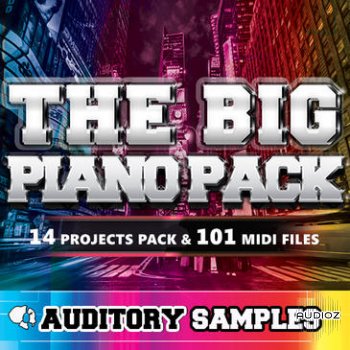 AUDIOХiMiK | 08 September 2013 | 222.24 MB
The Big Piano Pack from Auditory features over 100 MIDI files from 14 Auditory packs. This colossal bundle is designed for Cinematic, Hip Hop, Pop, R&B, Dance, Soul, and various other styles of production.
MIDI files allow you to assign these melodic phrases to your favorite synth or sampler, allowing them to slot perfectly into your production.
Products Included:
• Grand Piano Affliction
• Piano Class 6 (Vols 1-3)
• Piano Emotional Theme (Vols 1 & 2)
• Piano Gold Solo (Vols 1 & 2)
• Piano Midnite
• Piano Momento
• Piano Diamond (Vols 1 & 2)
• Piano The Real Deal
• Piano Dream Come True
Drums are not included , only MIDI files and the MP3 demo.
* Other Genres that this package may be useful in:
• World
• Funk / R&B