Looptone Lack Of Afro Presents Organic Soul WAV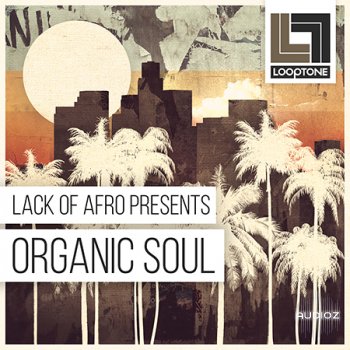 FANTASTiC | 06 December 2018 | 641 MB
Looptone present to you this top-notch collection of royalty free audio, blending the signature Lack of Afro sound. A melting pot of classic and contemporary Funk & Soul, chock to the brim with live analogue recordings of fat guitars, grooved out organs, driving drums, bold horns and a multitude of other instruments. This pack is an amazing resource for anybody needing a good dose of Soul food.
Lack of Afro has set the standard unbelievably high with this lusciously evocative collection of audio ideas. This is so laid back and packed full of groove, it's almost criminally good. The collection will not fail to impress and inspire in any studio setting and as always Lack of Afro's pedigree delivers above and beyond the call of duty.
Producers of Funk, Soul, Hip hop as well as film and Tv music will find this collection especially appealing.
With a distinct nod to the era defining output of Atlantic, Stax and Hi records in the 60's the laidback soulful grooves of this pack encapsulate that missing X factor within these skillfully crafted and authentically recorded sounds.
Just like many studios of the era, Lack of Afro Aka Adam Gibbons Relies on a highly skilled set of go too musicians (including his own multi instrumental talents and acclaimed productions skills) Backed up with an amazing analogue audio chain and authentic period instruments to capture the players magic in the studio.
This generously appointed pack is a collection of 11 song ideas totaling 898 Mb. Based around a whole host of live instrumentation, from sassy horns and tight funky guitars to gritty B3 Styles, warm jazzy Rhodes, off center Synths, fat bass guitar and superbly chunky double bass, all underpinned with a huge collection of funky percussion and thoughtfully tight drum loops and finally topped off with the welcome addition of chiming glock, soulful vocals, heartfelt piano and classically soulful strings.
This pack suits Hip Hop, Funk, Soul, House, Cinematic, Jazz and Downtempo productions especially, but stick a fat filter on a few loops and get a bit creative and it will easily be the starting point for a fat dance track.
In full detail the pack contains 898 Mb of content made up of 238 Audio files including 32 Drum Loops, 41 Guitar Loops, 37 Bass Loops, 40 Organ/Rhodes/B3 Style Loops, 22 Horn Loops, 36 Percussion Loops, 4 Synth Loops, 2 Glock Loops, 4 Vocal Loops, 19 Piano Loops and 1 String Loop All presented in pristine 24 bit stereo 44.1Khz Wav with tempos ranging from 95 to 132Bpm.
If you make fat hip hop, downtempo music, funky house or are looking for some grade A material to make library music from, then look no further.
Starring:
Adam Gibbons AKA Lack of Afro
– Drums, Guitar, Bass, Percussion, Saxophones, assorted keys, Glockenspiel, engineering & production
Lukas Drinkwater
– Double Bass & Electric Bass
Chip Wickham
- Saxophones
Elliott Cole
- Vocals
George Cooper
- Piano, B3 Style, Electric Organ & Fender Rhodes
Charlie Hearnshaw
– Alto Saxophone
•24 Bit Quality
•11 Song builder kits
•Tempos 95,96,101,108,110,119,120,125,132 BPM
•32 Drum Loops
•41 Guitar Loops
•37 Bass Loops
•40 Organ/Rhodes/B3 Style Loops
•22 Horn Loops
•36 Percussion Loops
•4 Synth Loops
•2 Glock Loops
•4 Vocal Loops
•19 Piano Loops
•1 String Loop