Cinematic Samples Cinematic Studio Woodwinds v1.3 KONTAKT Slim Version (Original release by Team DECiBEL)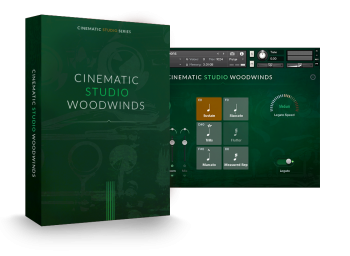 KONTAKT Slim Version | 22.11 GB
Powerful wind instrument sample library for Kontakt Player
Cinematic Studio Woodwinds is a superbly versatile library that will add a new and important dimension to your musical palette. With the gorgeous sound and stunning realism of these instruments you'll find yourself wanting to feature woodwinds in your musical creations in new and exciting ways. Boasting the same intuitive and efficient GUI as the strings and brass, CSW is designed to perfectly complement the rest of the Cinematic Studio Series. This outstanding orchestral wind instrument library is available now for Kontakt and Kontakt Player.
NEW! CINEMATIC STUDIO WOODWINDS
Cinematic Studio Woodwinds is the latest addition to the Cinematic Studio Series collection. Whether you want to blow the roof off with the bright penetrating sound of the piccolo, express emotion with the beautiful lyrical oboe, or vibrate the floor with the deep and powerful bass clarinet, these superb instruments bring warmth and vitality to your orchestral template. They perfectly complement the rest of the series: the Strings, Solo Strings, Brass and Piano.
INTUITIVE, EASY-TO-USE INTERFACE
At the heart of Cinematic Studio Woodwinds is its intuitive and efficient GUI. This means one patch per instrument, easily assignable keyswitches and MIDI CCs, and a full mixer with output routing options plus reverb. To save memory, articulations can be loaded in or out of RAM with a couple of clicks. As the layout is functionally the same as for Cinematic Studio Strings and Brass, these features and many others are all accessible via the main GUI page.
BROAD PALETTE – SOLOISTS AND SECTIONS
To record Cinematic Studio Woodwinds we used a marvelous selection of top-tier players to capture the full range and character of each of nine solo instruments and four sections. Whether you want the fine detail of a soloist, or the warm collaborative synergy of our two-player sections, we recorded the full dynamic range to harness both nuance and power. Every instrument was treated equally, including the piccolo, cor anglais, alto flute, bass clarinet and contrabassoon.
VERSATILITY AND REALISM
CSW features a range of articulations including playful short notes, expansive textures with flutter-tongue and trills, and a stunningly realistic legato engine. We spent countless hours recording true long-form legato transitions for each note, resulting in unparalleled realism. Because we've kept an authentic, human element in the sound you'll feel like you're in the room with the players. Every sample was tuned by ear, and carefully edited and programmed to ensure a delicate balance between consistency, playability and realism.
FULLY MIXED – LOAD AND PLAY
We used a variety of beautiful ribbon and condenser microphones to record Cinematic Studio Woodwinds at four mic distances: Close, Overhead, Main and Room, which you can combine to create your own mix inside Kontakt or via the output-routing option. Alternatively, you can use our ready-to-go mix position that contains all four mics in a stereo mix if you want a great sound with fewer resources. A Full Ensemble patch will be released as an update in the near future.

COMPATIBLE WITH FREE KONTAKT PLAYER
Cinematic Studio Woodwinds is fully compatible with the free Kontakt Player, and will work as a standalone product with no need to purchase additional software. Kontakt Player is available as a separate download from Native Instruments and can be downloaded free of charge by clicking here, along with the Komplete Start free bundle with 2,000 sounds and 6 GB of content. CSW is also designed for use with the new exciting range of NKS Keyboards.
— — — SLIM INFO — — —
- Library size is reduced to 25GB (unpacked), down from 90.6GB - a reduction of around 72%
- No articulations are removed
- Room and Mix mic samples are removed as the ambience can be recreated/customised with reverb
- Close, OH, and Main mic samples remain in order to preserve the sound of the room, and to match the Rollerball lite versions of the other CS libraries
- Samples reduced to 16bit from 24bit
A big thank-you to Rollerball for posting his tutorial on how to reduce libraries because this version would not exist without it

. NoEmbryo also deserves thanks for making and sharing his Minified libraries!
download from free file storage