AnyDayLong 007 STRING CHORDS KONTAKT [FREE]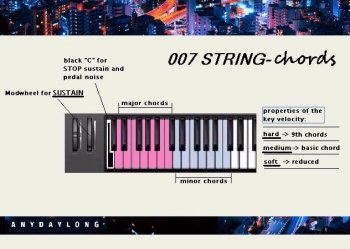 FREE | 05 February 2021 | 1.35 GB
007 STRING CHORDS
"The RETURN of GOLDFINGER"...... Now you are able to play a big vintage stringsection only with ONE FINGER.
You only need one finger and you decide whether James B*nd will end up messing around with a bathing mermaid on the beach at the end of the film (9th major chords) or whether G*ldfinger will rule the world forever (minor chords).
Every key has 10 alternative samples per note (10RR) so that it still sounds more alive, like a medium Vodka dry M*rtini – with a slice of lemon peel, shaken and not stirred.
Here are the main features:
- STRING CHORDS for Kontakt - 5.4.3 (48khz/24bit)
- clear and easy to use interface: one octave for major chords / one octave for minor chords
- three velocity layers for more chord articulations on every key
- easy control of playing sustain chord notes: Modwheel for SUSTAIN/ black "c" for STOPing sustain
- 1,5 GB