Cinematique Instruments KLANG Echolette Choir KONTAKT [FREE]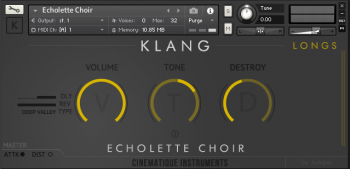 18.09.2019 | KONTAKT | 31 MB
Echolette Choir - One can elicit sounds from an old Tube Tape Delay, which urgently needs to be sent to the service, that were actually not intended.
So Jonas sent various sound sources through his old tape delay, turned the feedback knob to insane and let the machine sing in the self oscillation and captured some moments. You can now hear the old tubes distortion which is wonderful warm and organic.
Inside: The Echolette Choir contains four different captures of the Echolette as well as reverb with 9 different reverb types, delay, a tone control, 2 alternative attack times, distortion. The Modwheel morphes through all 4 sounds.
LiKE MY POSTS?

SUPPORT ME BY USiNG MY LiNKS (NOT MIRRORS)!

THANK YOU